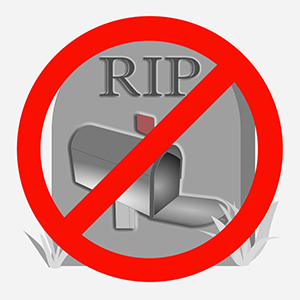 Direct Mail IS NOT Dead
12/21/20
There are some who believe that direct mail has become antiquated and ineffective.  However, several recent studies have proven that it is not!  In a data-driven world, these studies have revealed that consumers and their emotions are a driver in their path to purchase. In other words, direct mail is not dead.
Consequently, the effectiveness of tangible direct mail pieces is undeniable.
Additional Key Findings
Direct mail is easy to comprehend and remember. It creates a 70% higher brand recall than digital.
Direct mail is very persuasive and causes the customer to act.
It's easy to target the right customers at the right time. It appeals to all ages.
A Gallup poll reported that even Millennials look forward to checking their mail.
Direct mail gets your message across quickly.
Direct mail is highly likely to be read as you capture the undivided attention of your customers.
It increases brand awareness.
Harnessing the Perceived Value of a Direct Mail Piece
One finding that stands out most is the perceived value of a direct mail piece.  Our personalized mailers truly give that feeling of value to direct mail.  The mailers stand out in the mailbox and get your prospect's attention.
With our mailers, we can target the exact audience that you prefer and mailers are a fast and cost-effective solution.  According to First Data Research, 76% of consumers are interested in purchasing or trying a new product based on receiving a gift card in the mail.
Continuing in the Land of the Living
In recent years, marketing has become much easier than even 5 years ago. Creating a successful campaign requires preparing the ideal mailing list and designing for audience engagement.  Blend it together with digital and email marketing to achieve the widest possible reach and highest lead conversions.
Triadex Services offers a wide range of strategic, creative, and marketing services focused on one thing:  Growing your business.  Using proprietary data sources, Triadex provides targeted and measurable marketing campaigns that utilize both direct mail and digital services to make an even greater impact!