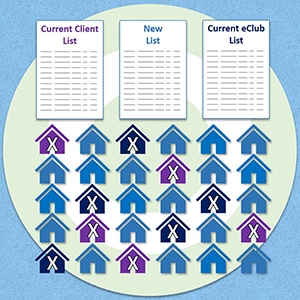 Preparing the Ideal Mailing List
10/12/20
Every successful direct mail advertising campaign must include a high-quality mailing list. This quality will be a factor in determining whether your marketing budget brings sales or gets tossed out with the "junk mail".
Preparing the ideal mailing list is especially important when you are running a campaign specifically designed to target new customers.
Suppressing Current Customers to Better Target New Potential Customers
At Triadex, our mailing list platforms not only let you search specific areas for key demographics, but also allow you to upload any existing customer lists you have and suppress them from the new list. Using suppressions in mailing lists removes your customers addresses and ensures you are only sending your carefully thought out promotion to a new audience.
Suppressions can be accomplished in 2 main ways.
Removing Existing Customer Addresses
Like most companies, you probably have a comprehensive customer address list you use to send information and loyalty promotions to. Consequently, you probably don't want to spend any money sending this group a campaign designed to bring in new leads.
When you send us a customer address list , we will upload it to our mailing list software. Any addresses on your list that are included in the new list will automatically be removed and new addresses will be added increase the total to your desired quantity.
eClub Lists
Introducing Reverse Append, the newest way to build out your direct mailing list, or in this case, suppress current customers from a campaign.
This new service allows us to accurately match roughly 60-70% of email addresses to the owner's physical address.
Once the list is compiled, it can also be suppressed.
Direct Mail is a Proven Way to Acquire New Customers.
Studies show that 39% of customers try a business for the first time because of direct mail advertising. Preparing the ideal mailing list by suppressing current customers lets you target and reach new customers with your direct mail programs!
Additionally, you can utilize your direct mail campaign to grow your customer list in different ways.
Remember those E-Club Members We Suppressed?