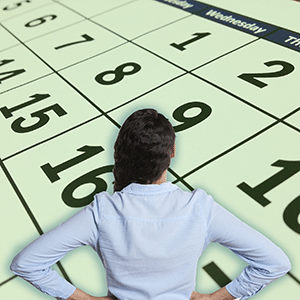 Look Back Digital Ad Marketing – A 2021 Reintroduction
1/11/20
In some ways it seems like just yesterday and in others, it seems like a million years ago.
Last May Triadex launched a brand-new program we labeled the "Look Back" program.
As the name suggests, this program allows businesses to LOOK BACK at the past 3 months to a year and gather data via smart device technology to see who has been to their location.
Yes, you read that correctly.  Now you can target customers that have been inside your location up to a year ago.
Think about the last year and the effect mandatory closures and reduced capacity have had on many businesses.  Now that retail stores and restaurants have been allowed to open back up for a while, it's the perfect time to take a look at who's been loyal and come back since you reopened.
There are an overwhelming number of statistics now that show smartphone users regularly take action after receiving ads on their mobile phones. Now, with the Look Back digital ads program, you can contact those smartphone customers and entice them to come back in with a special promo.
A Review of the Benefits of the Look Back Program
The technology creates a cell phone customer list.
Users will be directed to your desired landing page when they click on the ad.
You can target your customer base with any new promotions, products, or announcements in as little as 24 hours.
This cost-effective marketing program can generate instant results and real-time tracking.
Unlike other marketing techniques, look back advertising lets you target customers that have been in your store and know your brand.
You can promote any special occasion you have going such as events, catering specials, or holiday promotions.
How it Works
Smartphone device data is scanned for geographic information.
This info is used to create digital impressions via mobile device display ads. People will be shown a banner ad as they browse on their smartphones.
Previous customers become continually engaged, helping to bring in new sales.
Ads are displayed on thousands of popular sites and apps including USA Today, CNN, and ESPN.
Target Your Competitors!
With the Look Back digital ads program, not only can you target your area, you can also target the devices that have been inside your competitors' locations too.
In a recent Look Back marketing campaign, our client decided to target their competitors to see what effect it had on that "new pool" of potential customers.  The results spoke for themselves:


While the campaign was active, online sales for this client went up significantly week to week.  Additionally, while online sales did drop once the Look Back digital ads campaign was over, the sales remained much higher for a substantial period than they were before the campaign was launched.
Increase Your Reach and Bring in New Customers as Well
In addition to targeting customers for repeat business, we can also launch a separate program to reach out to phones that have NOT been inside your area the past year.
Increase your ad coverage with a pure acquisition play that will allow you to get more aggressive than usual.  Create a separate promo specifically to bring in new clientele with the peace of mind that your core customers won't be receiving the same ad.