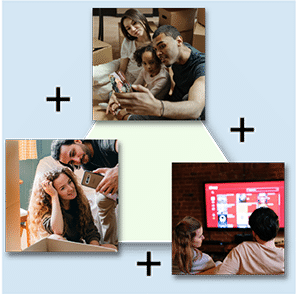 Target New Movers on Multiple Channels for Increased Lead Conversion
12/7/20
Did you know that people who purchase homes spend an average of $9,400 when moving in?
Similarly, new renters spend an average of $4,700.
According to the Census Bureau, approximately 40 million Americans will move each year.
Consider this to realize not only how many new movers could potentially be in your area at any given time, but how many established customers may be leaving your area at any given time.
Businesses face the task of needing to replace approximately 20% of their customer base per year. Fortunately, there are new potential customers moving in as older ones leave.
Using new mover marketing to reaching out to these new arrivals as quickly as possible gives you the edge to win their loyalty and maintain your customer base.
This can include many things from finding a new doctor and dentist to figuring out the best take-out/delivery options for their favorite foods.
Triadex Services use several methods to find new movers in your area. By analyzing online behavior and location data, we can determine approximately how long a person/family has been living in a new location. This is accomplished by:
Tracking the Purchases of New Homes
Utilizing audience segment profiles through digital platforms, we can target users who have or may be considering purchasing a home in your area.
Change in Mobile Location Proximity
Location providers measure the behavior of users to measure "dwell time" or the time period a person is registered as using a mobile device repeatedly in and around a particular area.
When location data changes significantly and a new constant area of dwell time is established, they are cataloged as someone who has most likely moved.
The Triadex Services New Mover Trifecta
Direct Mail
Direct mail is historically a tried and true platform for any industry wanting to utilize new mover marketing.
It is an ideal marketing strategy for any business wanting to target an ever-growing pool of potential clients. New movers are known to want to establish relationships quickly with businesses in their new area.
Postcard marketing redemption rates often receive the lowest Cost-Per-Lead and highest Return-On-Investment (ROI) as other forms of marketing.
Digital Ads
The location technology used to establish the "dwell time" mentioned earlier also lets you target mobile devices to display digital ads to your target audience.
Imagine having the ability to display ads specifically to consumers who have recently established themselves in your region.
Connected TV
The percentage of TV watchers who have cut the cable cord and switched to streaming devices are increasing every day.
Advertising on multiple devices is a cost-effective and easily trackable way to establish multi-platform marketing plans. Plus, Connected TV marketing programs are partnered with extremely recognizable and popular streaming outlets on the market today.
Tailor Your Messaging
Now that you are aware of the multiple options for reaching out via new mover marketing, you will want to take into consideration the message you utilize to best be seen. If you've ever moved, even just once, you know newcomers to an area are most likely going to be bombarded with offers and media of all forms.