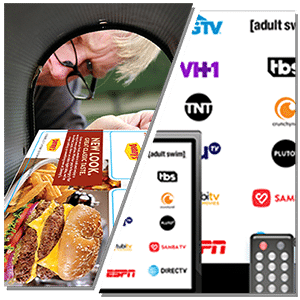 Connected TV + Direct Mail Marketing = Supercharged Campaigns – Part 1
02/22/21
"In 2020, several years of marketing disruption and innovation were compressed into a few short months." – The Trade Desk | Market Insights
As early as March 2020, when stay-at-home orders and social distancing practices became the new norm, there was an immediate challenge to adjust budgets and strategies to reach consumers now stuck at home.
This was especially evident in TV advertising. Almost overnight, marketing staffs were challenged with dramatically different TV marketing requirement due to:
Increased demand to measure TV advertising performance.
The growing number of households cutting the cord.
Demands for an option other than conventional "upfronts".
Growing attention to user-generated content.
TV marketers have been adjusting their creative approach in order to take advantage of CTV's benefits. Brands are looking to develop fresh forms of creative that are more tailored to a variety of audiences.
At the same time, there is a shift to shorter, more flexible ads and the utilization of more animation.  This allows for adjustments that may need to be made mid-campaign, a trend that most brands experienced at the beginning of the pandemic.
Finally, since the cost of subscribing to multiple streaming platforms can add up quickly, ad-funded streaming has become more attractive for users.
There is a strong indication that ad experiences on CTV/streaming platforms are very different from traditional TV.  This difference has made viewers more open to lowering their subscription fees in exchange for including ad content that is tailor-made to their activities and interests. Enter the opportunity for supercharged campaigns.
Mixing the Old with the New
The Marketing community agrees multichannel campaigns are the most successful in converting consumers. Adopting CTV into established marketing plans is an excellent addition as consumers shift focus to more and more streaming platforms.
Direct mail is a tried-and-true method with established processes for execution, performance, measurement, and customer acquisition.
Reasons Direct Mail Works
Attribution
Direct mail lays a solid foundation for match-back analysis. This is due to the fact that it starts with a list of physical addresses that provide defined prospects.
Audience Targeting
High-performing direct mail campaigns are often derived from first-party consumer data.  This is used to create lookalike models that can be combined with third-party data. The combination allows marketers to reach the most beneficial prospects for their clients.
Impactful
Direct mail is tangible.  It is a hand-delivered form of marketing that can be physically experienced through touch. Physical ads have demonstrated an ability to inspire emotions.  This response has the effect of increasing a brand's appeal.
Direct mail has a long history of successful marketing and is well situated to serve as the groundwork for an omnichannel campaign. Additionally, CTV and Direct Mail can be used together to onboard and activate direct mail audiences into any streaming platform with access to streaming outlets, creating your supercharged campaign.