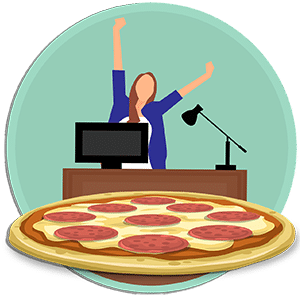 Increase Lunch Sales with B2B Pizza Direct Mail
2/15/21
Are you located near businesses and offices? If you answered yes, have you considered sending out a B2B pizza (business to business) direct mail promotion to those businesses in your area?
Fact:  People get hungry at work.
Fact:  People don't always feel up to eating the lunch they packed that morning.
Fact:  People will often place a group order for lunch.
Fact:  Businesses that regularly cater lunches for employees like a variety of choices.
Fact:  People like pizza!
Targeted Marketing for Businesses Increase Your Customer Base
A B2B pizza direct mail program is a good way to increase your lunchtime sales and build brand awareness in your local area.
At Triadex, we partner with large and small pizza chains.  Some of the most popular ordered items are:
Many of the local business' employees will try your pizza for the first time at work! Once you've made a great first impression, you may become a new favorite catering option for that business.
2 For 1 Direct Mail
Have a new menu you want to let people know about?  Consider the Triadex tri-fold menu mailer.  The large design provides plenty of real estate for your menu items and includes removable coupons for extra incentive.
Building on the B2B Foundation
Do you deliver?  Most people like the convenience of delivery.  If this is not something you provide for most orders, you might consider setting up a limited delivery policy just for the businesses around you. 
For example, a local pizza place situated across a parking lot to a major commercial business park began offering delivery specifically to the businesses in that park.  A minimum order was required to receive delivery.
Consequently, they began receiving larger orders at lunch that could be put together and walked over to the office.  This restaurant was able to increase its lunchtime sales immensely by providing this basic service.
As more employees become familiar with you, you may even increase sales in the evening by receiving take-out orders from people living nearby who have families that like pizza too.
You CAN Tap into New Leads by Hitting Them Up at Work
Just one targeted direct mail marketing campaign to local offices and businesses could potentially assist your business to grow and expand your customer base at a very reasonable ROI.  Then, continued direct mail marketing of upcoming promotions, will help keep them coming back again and again.
Taking it a Step Further
Continue your direct mail campaign's momentum and target your list with digital marketing ads. Geofence your competitors' locations and gain new customers.  Try our Look Back Program and target past customers that have been in your location in the past 12-months.
Combine the power of Direct Mail and Digital Marketing to create a successful campaign and increase sales.