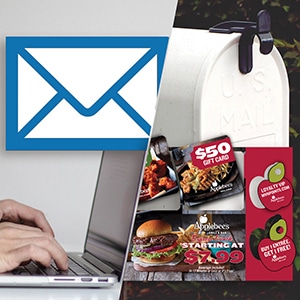 Keep Your Brand in Front of Your Customers – Send Direct Mail to E-club Deserters
8/03/20
By now you probably know the importance of creating and maintaining an email list to stay in front of your audience.
The trouble?  This becomes more difficult when your e-club never opens the emails that you send! There are any number of reasons for this:
Perhaps they signed up at a time they needed your service but no longer do.
Maybe now they aren't in the market for your service/product
They could be overwhelmed by too many other emails in general or you might be emailing too frequently.
The information you've sent may no longer have a value-add for them.
Sometimes e-club members unsubscribe, not because they aren't interested, but because it's not a good fit at that time. We know, its frustrating to say the least.
However, what if we told you there are ways to reach out to your e-club deserters? What if you could find a way to get in front of them, something that would cut through the clutter and help you get your brand in their hands, front and center! You can, with Reverse Append.
Now Presenting: Reverse Append!
Reverse append allows you to accurately match roughly 60-70% of those email addresses to the owner's physical address, giving you the ability to send a mailer directly to their mailbox! This allows you the opportunity to keep your brand, offers, or new items released in front of them.
Here are some of the benefits:
Fill in Missing or Inaccurate Information – keep up with address changes or incorrect information on form fill-outs, even misspellings.
Expand your Email List – since studies have shown web forms with less information are more likely to be filled out – you can improve the form response rate by only requested an email address.
Direct Mail – this allows you the ability to personalize the direct mail, which research has shown that 70% of Americans find physical mail more personal than email. This also sets up for the chance to create a direct mail campaign that targets specific demographic information appended to your list.
Trust as Important as Ever
Once you've gotten them back through reverse append, consumers need to have confidence in your brand.
So, you are probably asking yourself, if trust is so important, how do we ensure building it?
Excellent Customer Service – setting high standards for the quality and speed of your service, as well as a highly-trained staff to face any issues/concerns a customer has.
Transparency – being up-front about what the customer can expect from your product at the beginning of the process. Setting appropriate and honest expectations from the start.
Share Customer Reviews/Testimonials – consumers trust their audience's trust, therefore, hearing from consumers alike will make them feel more comfortable.
Request Feedback on the Process – always work on making improvements, no matter how small. Make it easy for customers to provide their feedback/input, this will also show customers that you value their opinions/needs.
Ways to Stay in Front of Your Customers
Consistency is Key – be consistent with content posting, newsletters, or emails.
Create an Email List – the inbox is a straight and direct way to connect with your audience. It's important to make sure the emails being sent show value and relevance.
Use Tag Lines/Slogans or Catchy Phrasing – create a tag line/slogan that encompasses what the brand stands for, something catching that will remind the audience of why your brand is a good choice.
Share Industry News or Blogs – brand your company as a figure of authority and knowledge, informing customers of industry news/info
Revamp Offers – just like anything else, improvements and changes are how you stay ahead of the times. Adding new products/services, revising old products/services, are just a few ways to make an impact. Sharing these with your customers through social media, email campaigns, newsletters, or front-and-center on your website will help ensure your customers are aware of these changes.
Online Advertising – keeping up with your website's SEO, staying in front of your audience via Google Ads, social media posts, etc.
Retargeting and Remarketing – while similar, these two are uniquely different. Retargeting is after a consumer views a product on a website, if they leave without making a purchase, then ads are pushed or direct mail is sent to this user to remind them of this product. On the flip-side, remarketing is more email-based. This happens in a similar fashion, however, instead of the user seeing ads or direct mail, they receive a personalized email regarding the items they viewed.
It is no secret that there are plenty of competing companies out there, in every industry.
That is why finding a way to stay in front of your customers is important. Always staying top-of-mind is crucial to helping your customers cut through the clutter of other companies similar to yours. Reverse append can help you do this.
It's not just about staying top-of-mind but keeping things fresh. It helps your brand pop into consumer's heads first when they think of a product/service.  Sure, big brands have an easier time with this concept, they tend to be ingrained in consumers' minds, but there are other ways to accomplish this.
Customers remember great experiences, let their experience with your company make an impact.
References
https://freshdesk.com/customer-service-training/build-customer-trust-blog/