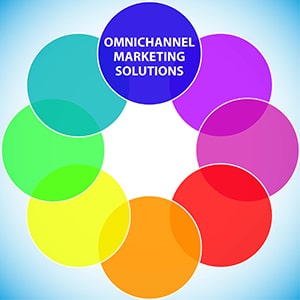 What Exactly Omnichannel Marketing is and How it Can Help Your Business
7/27/20
Triadex's omnichannel marketing services provide an approach that puts the consumer in the center of your marketing strategy. The strategy uses different marketing tactics that result in a seamless interface and experience for the customer at hand.
The strategy can sometimes be confused with multichannel marketing and single-channel marketing. However, multichannel marketing involves the use of multiple marketing platforms but the transition between systems is not seamless.  Single-channel marketing only offers one way for the consumer to view the product, like on a website or via a retail store.
The omnichannel approach intertwines each marketing channel that interacts with the consumer. This builds a stronger relationship between the consumer and your brand.
According to Emarys.com, 91% of companies achieve a 91% higher year-to-year customer retention rate on average. This is compared to those who do not use the omnichannel marketing method.
Why is Omnichannel marketing so much more beneficial than other marketing strategies?
Omnichannel benefits both the company and the end consumer in different ways. According to Stirista.com, omnichannel marketing can create a better, more reliable customer experience. It will also:
Increase customer loyalty to the overall brand.

Allow for better data analytics about the customer.

Creates a more accurate target for advertising. 
Other Benefits of Omnichannel Marketing
A more consistent experience
Customers now expect a more consistent experience across a company's brand experience. 61% of millennials expect consistent brand experiences whether in-store, online or by phone, according to Lexer.com. The more persistent your message and brand is to your customer, the more it will resonate and create a higher impact
Better Consumer Tracking and customer services
Individual transactions are no longer lost in the mix. Track the timing of consumer purchases to better plan for future marketing plans
Able to meet customers where they are instead of forcing them where to go
You would want to be able to help the customer immediately and would not want them to have to visit another channel, and potentially become a lost lead.
Better Brand Visibility
Messages are sent across all platforms consistently with one another, whether it is mobile, online, or in-store. When your customer meets your brand, they are given a seamless customer service experience. Messaging across platforms will be better received and will gain trust and reliability from the side of the consumer.
Personalized Content
Allows for the company to react and be more attentive to each customer, instead of clumping all customer in one large group. Clients who use personalized data see an increase of 178% in conversion rates according to Lexer.com. Promote relevant offers to the right people. Access to immediate, and up-to-date information the very moment the omnichannel marketing platform is initiated by the customer
Omnichannel marketing is a great way to help your business grow and become a more reliable and important brand. It will also bring in higher conversion rates while simultaneously taking care of each of the customer's needs.
Utilizing our omnichannel marketing services allows you to prepare for the future and be able to take care of each customer better than your competition can.
Contact Triadex Services today to learn more.
https://lexer.io/marketing/top-5-benefits-to-omnichannel-marketing/?lang=en-us
https://www.stirista.com/blogs/omnichannel-marketing-six-benefits-brand-can-achieve
https://emarsys.com/learn/blog/multi-channel-marketing-omnichannel/
https://www.apparatus.io/7-benefits-of-OmniChannel-ecommerce#gref