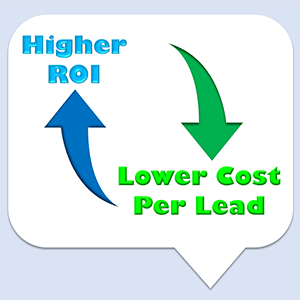 Get a High ROI with Inexpensive Direct Mail Pieces
7/06/20
With the continued advancements of the digital age, many businesses are on the search for newer ways to gain more leads with as low a cost per lead as possible.
And while social media and updated email have expanded our ability to reach people, traditional marketing approaches such as cheap direct mail campaigns are an extremely viable resource.
Inexpensive direct mail still offers one of the most reliably efficient ways to advertise. Creating an inexpensive direct mail campaign is an extremely straightforward and cost-effective way to gain a high ROI with a low cost per lead.
Need a little more convincing that inexpensive direct mail is a practical option for today's marketing campaigns?  No problem.  Here are some more compelling reasons you should be utilizing inexpensive direct mail to expand your customer base.
Inexpensive Direct Mail has a Tried and True Track Record
History is on the side of direct mail.  Mail campaigns are one of the oldest marketing techniques around.  Long before Amazon and eBay, catalog sales and promotions were the way most people shopped who didn't live near an urban area.
Inexpensive Direct Mail is Tangible
There is something about being able to touch an object that makes it more real.  In marketing, the ability to hold a coupon or promotional ad in your hands can give it more credibility.  It also eliminates the possibility of your information being sent directly to a spam folder and deleted without ever being opened.
Physical mail is delivered directly to customers' hands.  This delivery makes it much more likely that they will see the info you've worked so hard to put together.  Additionally, mail is familiar. We all grew up feeling a certain expectation for when the mail might arrive.
Inexpensive Direct Mail Results are Easily Trackable
Even with the advent of analytic applications for online marketing, the results of direct mail can be measured even easier.  If you send out an inexpensive direct mail promotion, the only thing you need to do to track its success is to count the number of coupon transactions you get back. Yes, it's a very analog approach, but it's still very effective.
Inexpensive Direct Mail is Cost-Effective
Sending out an inexpensive direct mail campaign is relatively economical. The Postal Systems mass mail rates are available for every form of direct mail.
Inexpensive Direct Mail Can Be Highly Targeted
An inexpensive direct mail campaign can target a specific audience.  These can be anyone from new leads to long-time customers and clients.  Consequently, customers only receive the information that applies to their needs and you aren't spending more than necessary to achieve the same outcome.
Inexpensive Direct Mail Can Be Tailored
At Triadex, our inexpensive direct mail pieces can be customized.  When paired with the right mailing list, your potential leads or loyal customers will receive a mail piece meant just for them, not to "Resident" or "Home Owner."
This added effort shows customers they are a person to you and will increase the likelihood that they will follow through with a purchase or inquiry.
Get Started Today with Your Own Inexpensive Direct Mail Campaign
At Triadex, we know how effectively an inexpensive direct mail campaign can aid you in expanding your customer base.
The flexibility of direct mail paired with its affordability make it an excellent option for you to create a consistent marketing and branding program.