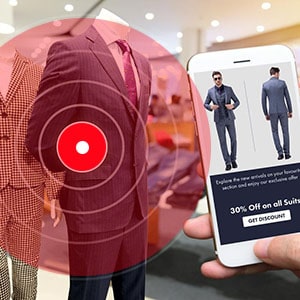 Geo Targeted Marketing: Creating Hyper-Targeted Lists for Digital Ads
6/29/20
Geo targeted marketing a.k.a. geofencing, in the world of advertising, has become a key part of any digital or online marketing campaign. Mobile geofencing is the location-based digital marketing method.  It lets you send digital advertisements to cellphone devices within a defined area. Having this type of strategy for digital marketing campaigns can be pivotal in ensuring the digital advertisements are being received by the best possible prospects.
What is Geo-fencing?
Geofencing is a virtual parameter one can set around real-world geographical areas. This can come as a simple radius or a pre-designed outline for where the boundary will be located. Why is this important to businesses as they promote and advertise through digital platforms? This is crucial to digital advertising because you are now able to pinpoint where your ads are sent, and to whom they will be sent to. If you are doing normal digital marketing without any preset parameters, you do not know where these ads could be ending up. You may work exclusively in specific zip codes, you would then want to make sure those zip codes are the only ones that are being targeted, it would be a waste to send these to the zip codes you have no work for.
Geofencing is also not just limited to cellphone devices but can also be effective with desktops as well as tablets. There can be instances where there simply may not be enough cellphone devices to target and utilize for a strong campaign. In those instances, using a radius to geofence the selected area would allow for different devices to then receive the add and not just the limited number of cellphones.
Taking Advantage of Increased Online Transactions and E-commerce
Online transactions and e-commerce are significant ways customers have been shopping and purchasing products that may not be available for them in the immediate area. Despite the rise in online transactions, consumers still spend much of their disposable income in their towns and cities.
Eighty percent of consumers' disposable income is spent on businesses located within 10 miles of their home. Even though e-commerce may appear to be "King", there is a huge need for consumers to rely on nearby businesses for their daily expenditures. (Mary Pomerantz Advertising,)
52% of sales conversions are driven by mobile advertising. (Rev Local)
78% of mobile searches for small businesses results in a purchase and nearly 81% of all shoppers conduct research online prior to their purchasing decision. (Advertise Columbus)
This shows the true importance of online and geo targeted marketing, the use of this strategy can be used for a wide range of businesses, whether being a national chain, or a small brick and mortar store looking to increase foot traffic. Geofencing in today's world is an important strategy all businesses need to consider using to stay relevant in the lives of consumers.
Smartphones and tablets are used by nearly all adults in America and many conduct their purchases or research their purchase through those devices. Be ahead of the curb and use geofencing with your digital advertisements to increase your sales and advertise to the right consumers who will use your services.
Click here for more information about Triadex Services' Geofencing Marketing.