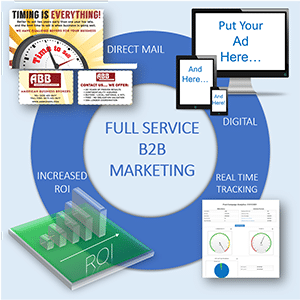 Full Service Marketing for B2B
7/13/20
Business-to-business marketing (B2B) describes the marketing methods a company undertakes that are aimed at other businesses, who are then focused on as being the primary customer. B2B Marketing has taken many changes throughout the years, especially with the online strategies that are now widely available, and the marketing environment will continue to constantly change. One marketing method will not just be enough however to get the best results. Full service marketing for B2B utilizes a variety of B2B marketing methods that will give your business the best potential to land that new deal.
Use Varied Marketing Tactics to get Your Brand Noticed
In today's world, online marketing tends to be where companies are spending their money. According to Smart Insights, email marketing is currently leading as the most popular trend with 84% of businesses utilizing that tactic, due to its high ROI. For companies, on average 56% of marketing spend is associated with digital marketing methods. Other methods of spending include 52% for website development, 36% for tradeshows, 27% for email marketing, and then around 11% of marketing spend is direct marketing and print advertising.
Another major outlet now being used by B2B markers has been the use of digital advertising specifically for cell phones and mobile devices. The amount spent on mobile digital advertising has increased by 26.2% from 2015 to 2019. This is versus only a 14.7% increase in spending on desktop and laptop devices within that same period. All this is due to customers, in both the B2B and B2C marketing world being constantly engaged. From a cellphone device, you can send the advertisement, allowing for quick and easy responses and ordering.
Even with technology being a key feature of the way businesses market to other businesses, direct mail has still seen a steady increase. Direct mail response rates have been steadily climbing, with a 37% increase in response rates since 2015 according to Smart Insights. This could be due to the over-saturation of current marketing strategies at hand with technology.
Establish the Proper Balance
With the increases in email, cellphone, and digital ad retargeting methods,  make sure your targeted audience isn't being overwhelmed.  Use offline and online advertising to get your brand captured and noticed. Using full service marketing for B2B lets you change up your marketing methods. This allows customers to see new and relevant content that can turn your next lead into your next customer.
For More Information on our Direct Mail and Digital Services Contact Triadex Services Today!