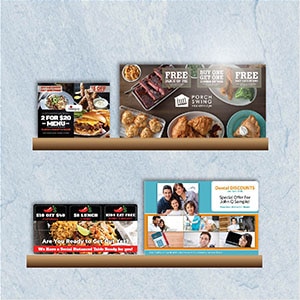 Enjoy a Longer Marketing Shelf Life with Direct Mail
6/10/20
Imagine this, you're at the grocery store, you buy a loaf of bread and take it home.  That loaf sits on the counter, maybe you have a few pieces, but after a few days it gets stale and moldy.
Why is this?  Your bread has a shelf life because of the products used to make it. Marketing campaigns share a similar concept.  Sure, they most likely won't get moldy like your bread, but they too can become stale and old.
So, what's the best way to ensure the most shelf-life for your marketing efforts and money spent?
Direct Mail!
The Direct Mail Shelf Life is Reported to be an Average of 17 Days!
Direct mail has the longest known shelf life than any other marketing medium.  It can last up to a few weeks.
For a comparison, consider that email marketing can be measured in merely a matter of seconds.  Studies show the sweet spot shelf life for direct mail is 17 days on average.  It's been estimated that prospects cool at a rapid 10% per day!  Just because a prospect or customer knows your business doesn't necessarily mean they will remember you at the moment needed to make a purchase or even a referral to someone else.
Small Business Brief shares the following stats on marketing shelf life:
2 minutes – that's all it takes for someone to go from viewing your website to completely forgetting it
5-7 days – that's all it takes for someone to forget your products/services after reading a page or your marketing material
2-3 weeks – that's all it takes for someone to go from talking with you to forgetting you
1-3 months – that's all it takes for someone to go from buying from you to forgetting your company
See the point?  You must stay in front of prospects and customers alike.  Envision all the advertisements you come across in a day, week, or even a month.  Chances are your prospects are getting just as many.
It's not a matter of them forgetting about it, it's more so a matter of continuous information being piled onto them through multiple marketing channels.
How To Avoid Letting Your Marketing Go Stale
Have a Customer Database
Make sure your website has a way to collect your prospects contact information, allowing you to keep in touch with them.  This assists you in maintaining regular contact with repeat customers.
Stay in Front of Your Prospects and Customers
Utilize a combination of direct mail, digital marketing and email.  This way you will be able to spread awareness of your brand via multiple channels.  Regular reminders to your target clients keeps you at the forefront of their mind.
Follow-up with Customers
Not just for Real Estate.  After their purchase, following up with a customer via product review requests and special offers can increase sales by 30-40%.
Create a Sense of Urgency
Make sure your marketing piece includes an expiration date. Customers are more inclined to act quickly if they think they might miss out on the offer.
Key Components of Direct Mail Marketing
Using the Right Mailing List
Your marketing piece is only as good as the list you mail to.  If you aren't targeting the right people, you won't be bringing in more business.  Furthermore, not only does the piece itself have a shelf life, but the mailing list does as well.
Why is this?  People move often, approximately 1.2 million people move every single month. To have the most accurate list for targeting it's important to use the list within a few weeks of renting it.  Holding onto a mailing list beyond this time frame can skew results since many of the addresses may be outdated.
Triadex Services has worked to build the most comprehensive and up to date mailing list services.
Personalized Message
The more connected you make the customer feel, the more successful the direct mail piece will be. Everyone just wants to be recognized and understood.  Find a way to connect that shows you have an understanding of the consumer and something they may be interested in.
Present an Offer
Having a unique offer increases the chances someone will hold onto the marketing piece longer and will use it because it offers them incentive.
Fine Tune the Way You Target
What does this mean? Make sure the call-to-action is clear and concise.  Find a way to make the marketing piece relevant and somehow adds value for them.  Don't get lost in the details, don't clutter the message, and save the details for later.
USPS states that 62% of millennials have visited a store or business based on something they received in the mail.  They even go on to say that 25% of millennials consider reading direct mail as a leisure activity.
Include Multi-Channel Marketing Mediums
While direct mail has been a staple marketing medium for years, digital and email marketing have become a thing in more recent times. Combining direct mail with these mediums creates a synergistic approach – bringing together the old with the new.