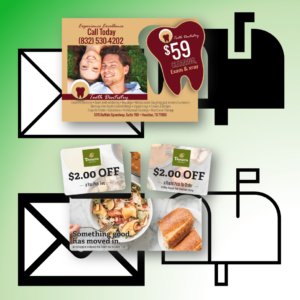 Direct Mail is Still a Viable Marketing Tool
8/24/20
According to the Direct Mail Association (DMA) Factbook for, 65% of consumers have made a purchase as a result of direct mail. What this means for your marketing plan? It means that despite the growing use of digital advertising via email, social media and online streaming, direct mail marketing tools are still a viable option for getting your message to your customers.
According to Direct Mail News, the average response rate for direct mail is around 7%. This includes business-to-business mailings.
Many of our clients, including those in high tech, have recognized this.  Consequently, the combination of using direct mail and digital advertising is becoming more and more popular to maximize a campaign's coverage.
Using the Right Direct Mail Format
How well does your direct mail format fit the look of what you are selling? Consider this, a fun, glitzy piece plastic postcard with colorful graphics and bubbly fonts will work great for and entertainment venue or retail fashion.  However, if you are providing a service like Life Insurance coverage or are a Financial Services, you may want to consider a more straightforward look, or even choose a different mailer product such as a No. 10 envelope with pop-out business cards included.
The point?  Focusing your direct mail at your audience and analyzing what your intentions are will assist you in deciding key components such as:
Calls to action
Graphic Styles
Use of Branded Items
Set Yourself Apart with Personalization
Personalized mailers will always outshine generic pitches in a mailbox, no matter what industry you are in.  When a potential customer received a mailer that is not only addressed to them, but uses their name in the main area of the piece, you establish an immediate connection.
Get Started Now
Triadex Services knows what is needed to make your direct mail marketing tools take you to the next level. From creative and messaging to mailing list building and timing.