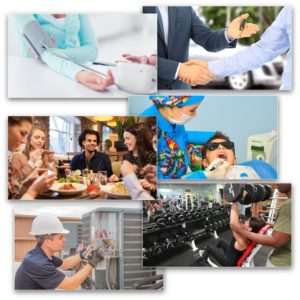 Top Industries that Can Benefit from Direct Mail
03/11/2020
Some may wonder what value direct mail still has in today's marketing world. With the advent of online marketing and digital ads, old-fashioned direct mail advertising often gets forgotten or brushed aside. However, recent research has shown that direct mail is even more powerful than years ago. As digital ads have become more pervasive, oftentimes it's the physical, tactile experience of receiving a special offer in the mail with high-resolution images that stands out and gets remembered by consumers. It is something that companies in an array of industries are wise to rethink as a way to reach their target audience. Below, we take a look at some of the industries that potentially have the most to gain by using direct mail.
Restaurant Industry
With a seemingly unlimited number of choices in the dining industry, consumers are often overwhelmed by the simple question of "Where should I go to eat?" Because of this, most restaurants face stiff competition in bringing in both new and repeat customers. While some restaurant marketing includes expensive options like TV or print, many restaurants don't have the budget for these options. And when online ads and social media fail to cut through the clutter or leave a lasting impression, direct mail can do just that. By sending direct mail promotions like wallet-sized cards with coupons or specials, it creates a limited-time incentive for the consumer to keep the promo around or even in their wallet. This helps your brand stay in the top of their mind for an extended period, unlike most digital ads. And with 75% of consumers being motivated by special offers, a direct mail ad can be that extra push or reminder to bring in a new customer. A plastic 'gift card' style ad can be a strong promoter as it has a proven psychological effect on today's consumer. If you offer a 'gift card' as part of your promotion instead of simply a 'coupon', the customer views it as money in their hand and is more likely to take advantage of the deal.
'Big Decision' Industries
Whenever a consumer has a big decision to make on a product or service, the buying process can be long and complicated. Some of these longer decision-making products include such items as a new car or home, jewelry, furniture, appliances, or even hearing aids. If a buyer needs an extended period of time to research, compare, and ask for recommendations from friends and family about your product, chances are your company could benefit greatly from educating that person with direct mail that enables you to "tell your story". A strategically timed over-sized postcard gives you more space to include relevant and timely information that can be the difference between gaining or missing out on a sale. And with most of these 'big decision' products being high ticket items, it's something your company can't afford not to do.
Service Industries
Service industries can often be the most difficult to promote or advertise. When many services such as oil changes or HVAC have no tangible product for the consumer, it's often challenging to set yourself apart. One way to solve that problem is to send potential customers direct mail ads, giving them something they can hold in their hand and act as a physical reminder of your brand. While digital ads are temporary, postcard ads have a much longer shelf life (sitting on one's counter, in a purse or a wallet) and are oftentimes the catalyst to a new sale. Service industries must consider the significance of the lifetime value of customers, whether they subscribe to a membership like a gym, become accustomed to your offers or employees like at a spa or auto service shop, or just return one more time to frequent your business in order to form a new habit. Direct mail works best when there is a clear "call to action" that is both enticing and relevant to the consumer.  And, when you combine a special offer that ends soon, you have created a "sense of urgency" simply not available through other mediums.
Click here to find out more about direct mail options including custom postcards, gift cards, and plastic key tags.