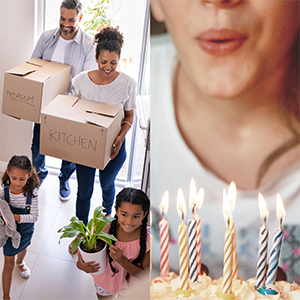 Tailor Your Direct Mail Campaigns with Monthly Birthday and New Movers Mailers – MMP
02/21/22
Did you know:
New home buyers spend an average of $9,400 while moving in and getting settled?
New renters spend an average of $4,700?
Roughly 40 MILLION people move each year, according to the Census Bureau?
Not only are new movers coming into the area, but established customers could be moving out?
AND…Within FOUR miles from your location, there are close to 1,000 people having a birthday each month?
Now, consider this:
Direct mail is historically a tried-and-true platform.
It provides a different approach – psychologically when the term Gift Card is used, the offers on the mailer are viewed as a gift instead of a coupon.
You can add a personal touch by addressing the mailer to the recipient by name.
Postcard marketing redemption rates often receive the lowest Cost-Per-Lead and highest Return-On-Investment (ROI) as other forms of marketing.
Furthermore, most restaurants only focus on holidays such as Valentine's Day and Mother's Day but, they miss birthdays. And, unlike holidays, birthdays are going on every single day!
Finally, new movers are ready to establish relationships with area businesses quickly to get settled in and back to a routine.
Beneficial for ANY INDUSTRY to Stay Engaged in the Community
Own a Restaurant?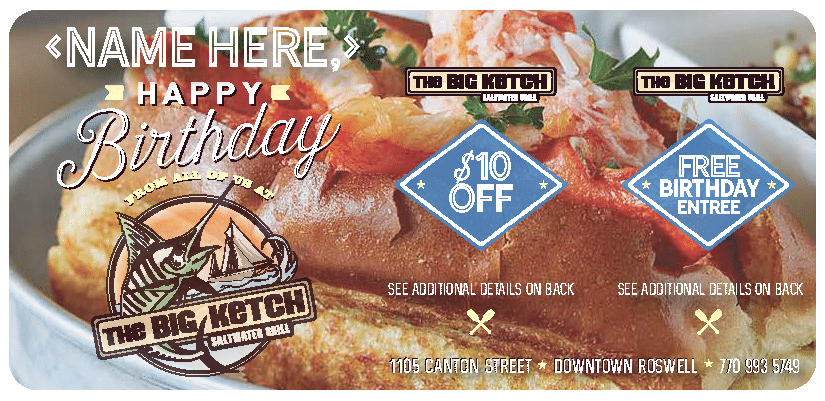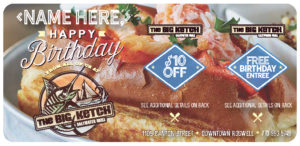 Send Birthday mailers as personalized birthday gifts and New Movers mailers as an invitation for new arrivals to come in!
55% of Americans eat out for their birthday. Gift Cards are an exceptional way to grab a customer's attention and invite them to visit your business. Plus, guests coming in to celebrate a birthday often bring about:
Higher Checks – birthday celebrations average 4-8 guests per table, which is more than twice the industry average. More people celebrating means higher checks and happier servers.
Higher Margins – birthday tables tend to order more alcoholic beverages and desserts than an average table, resulting in higher gross profits.
New Customers – people tend to invite family and friends to celebrate with them, so one mailer can bring in several new customers who will come back again.
Plus, who doesn't love getting something for their birthday?
Additionally, if you've ever moved into a new home, whether it's a rental or a new purchase, you know cooking is usually the last thing on your mind. Be the "knight in shining armor" by providing an easy solution to feeding the family amidst the chaos of unpacking.
How about a Medical or Dental Practice?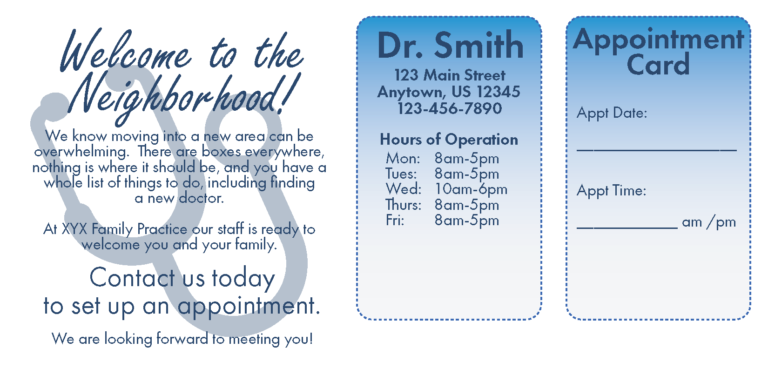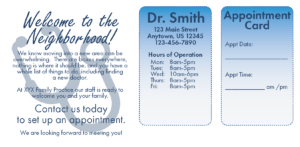 Medical and Dental Practices Can Make it Easier For Patients to Find a New Practitioner and then Remember Annual Appointments
If you have a Medical or Dental practice, take advantage of a birthday mailing list program to send plastic postcards with Annual Wellness Check or Check-up reminders to current clients.  Take advantage of a new movers mailing list to get the attention of potential new patients.
Looking to Increase Your Sales?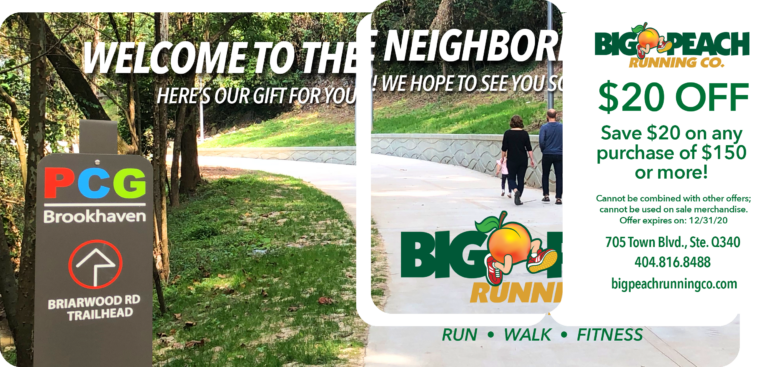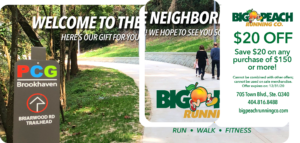 Whether you are in a retail or a service industry, birthday mailing lists are a great way to target customers in your area that may have "birthday money" to spend.
And, as stated earlier, newly arrived residents are going to be spending THOUSANDS OF DOLLARS as they get settled in. Whether it is on a new car, furniture, updated wardrobe, snacks for the empty fridge, or a much-needed massage to relieve stress, you want to make sure they can find you before they find your competition.
CASE STUDY
CHALLENGE: A regional YMCA group with 8 locations was interested in targeting newcomers to their area every month. The problem? Targeting this demographic within the designated areas they wished to cover did not fulfill the minimum quantity required for a regular order.
SOLUTION: They signed a 6-month contract to participate in the Triadex Monthly Mid-Sized 28mil Program (MMP)
The Triadex Services Monthly Mid-Sized 28mil Program (MMP)
The MMP is a multi-client print run that consolidates several smaller orders from various clients.
This means, unlike standard print orders, there are no minimum quantities required. The artwork design for all mailers participating in the program uses our mid-sized 2 pop-off card template with the 28mil laminated plastic.
Most clients utilize this program to send out monthly Birthday and New Mover targeted mailers.
Our MMP print run is processed once a month with an approximate in-home date during the last week of each month. This allows birthday recipients time to receive the card and plan their visit the following month for their special day.