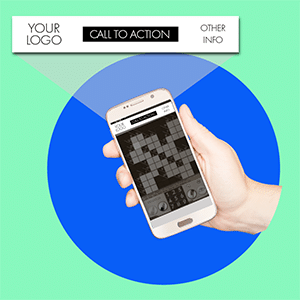 Digital Display Ads – The Best Practices to Help Ensure a Successful Campaign
07/26/21
In addition to direct mail, Triadex Services offers many digital marketing programs. One of our most popular digital offerings is digital display ads. While many companies offer this service, Triadex Services stands out due to its high standard of digital display best practices.
Follow these guidelines to help ensure you get the most out of your display ad campaign
Do NOT Forget to Add Your Logo
The primary purpose of display ads is to improve brand awareness and drive new traffic to your website. This is accomplished the easiest with a company logo that is clearly visible within your ad. Additionally, if the space is available, showing a logo and spelling out your company name is the most optimal.
Choose an Enticing Call-to-Action
Adding a button on your ad increases the click-through rate. Use bold colors and fonts. Popular phrases used are "Click Here," "Learn More," "Watch Now," or "Register Here." Typically, the call-to-action is placed near the bottom of the ad and installs urgency to entice people to take action NOW. Include an end date or suggest the offer is for a limited time.
Keeping your design simple, framing the image, and using appealing fonts are the next best practices. Typically, the viewer will glance at your ads for a few seconds. Within that time frame, they should know exactly what your message is and be able to identify your brand. A method to do that is to frame the image. People's eyes are drawn to images inside boxes. Once their eyes are on your image, the font should be easy to read. Stay away from cursive fonts, thin or small fonts, and all uppercase fonts.
Strong imagery can make your digital display ad stand above the rest. Select a meaningful image that supports your messaging.
Create Multiple Formats
A good campaign will do even better if it is set up to avoid ad fatigue. Ad Fatigue, also known as Creative Fatigue, happens when customers begin to deliberately overlook the digital ads you have put in front of them. Reasoning for creating a campaign that avoids this is simple:
The More Ad Formats You Create and Rotate Through,
The More Opportunities for Your Ads Have To Make An Impression,
The More Ad Impressions You Get.
Also keep in mind that the most effective banner sizes are: 336×280, 300×250, 300×600, 320×100, and 728×90.
Make Sure You are Matching Your Brand Guidelines
If you aren't already aware of this, now is the time to make the change.  Your brand guidelines are how consumers recognize you before they even see your details. This makes it crucial to ensure brand consistency among ALL your marketing efforts. Brand loyalty is lost if there is no consistency in a company's marketing.
Make sure your ads visually match your landing page in terms of color and font. A smooth transition from your ads to your landing pages and then to the rest of your website will boost trust and the user's experience.
Present a Clear Value Proposition
Your value proposition is what drives people to click on your ad. The value proposition presents your service or products' greatest features. This can be what differentiates you from your competitors, or an attractive offer (50% off, free shipping, etc.) – this should take up the most space in your ad and be the primary thing that gets the viewer's attention.
Trust Triadex Services to always adhere to digital display best practices when we develop your digital display ads. Contact us today to get started at 813-983-7420.