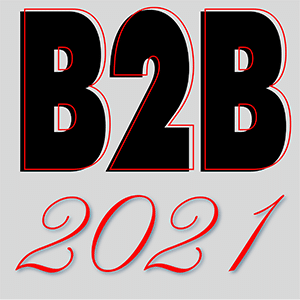 B2B Marketing Strategies to Get Through the Rest of 2021 and Beyond
07/12/21
2020 was a turning point for many businesses, and we know you know this. Everyone and everything seemed to be hit by its effects in one way or another.
Rarely has the phrase "Necessity Breeds Invention" been more accurately depicted than in 2020.  If we can find a silver lining from last year, it would be that it forced many businesses to evolve and change, even if only out of necessity.
Many companies have had to morph their previous marketing efforts to a more digital-friendly approach.  Attracting new customers by ways of digital content marketing and search engine optimization seemed to be the way of 2020, and it has not stopped in 2021. That being said, here are some key B2B Marketing Strategies that have shown themselves to be very successful:
Video Marketing
2021 only enhanced this strategy and made it predominantly stronger.  With the physical approach stripped from everyone, this year showed us the importance of visual engagement.  Many people resorted to using programs like Zoom, hosting/visiting webinars, personalized marketing videos, the list goes on.
With few ways to connect, this became the one that felt the most real.  It provided authenticity and some level of emotion, which in return increased engagement, interest, and even conversions.  This helped open the door to videos becoming more accepted in places they may not have been in the past, such as emails, blogs, landing pages on websites, social media, and even reviews.  Even sales teams have used them to connect with potential customers and leads.
Adding video content to your marketing through channels like Connected TV (CTV) is a viable solution to reaching out to a wider audience.
Hubspot even noted their statistic that "87% of video marketers reported positive ROI from their video efforts in 2020 – a huge increase from 2015 when only 33% felt that way".
Conversational Marketing & Chatbots
The buyers of today expect guidance in their decision-making process.  Chatbots have been an essential part of assisting with this offering to potential customers.  67% of consumers across the world have confirmed they used a chatbot within the past year.  Many people prefer this option of communication vs. waiting on hold on the phone for assistance.
They like the quick replies to their questions and 24/7 customer service availability.  Trying to coordinate this type of service without chatbots would be nearly impossible!  These systems are able to mimic human behavior.
Even though they aren't real people, they still provide a service that helps the consumer feel comforted and cared for.  Since consumers expect quick and accurate information, chatbots can help narrow a website visitor's focus and eventually help lead them through their buying journey.
Account-Based Marketing
Account-based Marketing, or ABM, is a combination of your company's best inbound methods along with your company's top sales tactics.  Research shows that this method can bring in nearly 200% more revenue from marketing efforts.  Essentially, you would be combining the two best revenue generator systems your company has to create a powerhouse marketing tactic!
Another growing trend is intent data, which is used to help the intent of potential customers that are a good fit for your company based on their active online searches.  This tactic helps to identify your target audience.  Intent data will help pinpoint when or if you are needed now that you will have the tools to better understand where they stand in their buying journey.
One easy way to establish intent is to set up a Geo-Fencing program around your locations and your competitors. Location-based digital marketing with Triadex lets businesses advertise to their target market with great precision. Imagine having the ability to display ads specifically to consumers who visited your competitor in the past week.
Another way reach out to potential customers based on intent is via direct mail retargeting through your own company website.  Direct mail retargeting gathers key data from your website. Then, this data is used to send automated direct mail in real-time to your customer.
Content Marketing
It's true, there's a ton of "noise" out there with other companies also doing content marketing, but there are ways to break through the "noise" competition.  One of the biggest ways is consistency.  Really targeting the prime keywords is dually important.  Much like the saying "Rome wasn't built in a day", your return on ROI for your content marketing will not happen overnight, it will take time.
Interactive Content
Direct interaction has always been a fantastic way to increase consumer engagement, the same goes with interactive content.  The more engaged they are the longer their attention spans will be as they engage with your content.  A few ways to create interactive content are sharing videos, infographics, quizzes and encouraging follows to share your social media posts on their accounts.
Try and find ways to implement these tactics and B2B marketing strategies into your own marketing.  You might be surprised by the positive impact it has on your company!