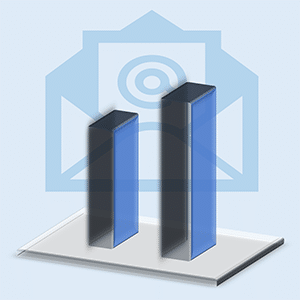 2021 Email Marketing Trends
04/26/21
With all the chaos from the pandemic in 2020, businesses had to find new ways to reach out to their customers.  The solution?  Well, have you noticed an upward trend in how many emails you receive lately? Bingo! Statistics show that in 2020 alone, email sending volume increased by 45%! 2021 email marketing trends are expected to continue this growth.
People usually select email as their preferred form of receiving information.
Thanks to the increase of spam phone calls and the ability to fast forward through conventional TV ads through DVRs, Email has once again become a great marketing strategy.  It can take on many roles including letting customers know about new protocols, hours, promotions, and even virtual events. Additionally, with the uncertainty of social media algorithms and privacy issues, many businesses have realized that email marketing has proven to be much simpler than many other digital marketing platforms.
Moreover, because of the influx of email marketing, the number of landing pages has grown exponentially as well – almost 70% since 2019. This has ultimately led to an increase in e-commerce orders via email, almost 3x the previous year.  With the implemented social distancing rules, businesses experienced a drastic shift in consumer online purchases.  Now that people have dipped their toes in the ease of online order, it will certainly be here to stay!
If 2020 is any predictor of how the coming years will be, emails have proven it will only increase.  To help provide guidance on email marketing strategies we have put together a few key points:
Personalization
It is no surprise that personalization is an important factor.  A great feature of email marketing is that you can personalize at scale to a large quantity.  Even though you have a large number of subscribers you can still find a way to make each of them feel uniquely special.
Email automation and journeys are a great "set it and go" marketing solution by letting you establish "if this, then that" situations.  By doing so, you allow the customer to choose the path of which emails they receive based on their response.  Some businesses have even set up programs like this to run for a year at a time. Doing so allows them to continue their customer interaction without having to lift a finger after the induction of the program.
There are even transactional email services now.  These allow automated email design to be a lot easier and efficient.  You can still have all the fancy bells and whistles but by drag/drop software that helps to easily create and edit email formats.  This helps even the least creative person to build an email that is aesthetically appealing to the customer.
Valuable & Authentic Content
It is true, no one wants to waste their time reading an email that is completely unrelatable.  Consider this, every time you send a consumer an email and they open it, you are trading their time for your email.  If you have ever heard the phrase "time snob" it is relevant to this situation.
If someone opens your email and feels like they have wasted their time because they did not find value in the information you provided, the chance of them opening the next email from you is slim.
Some companies have found clever and unique ways to get their customers involved.  They have introduced user-generated content into their emails. How? It is simple really, and a win-win situation for everyone.  People join this company's email list so that they can see their Instagram photos featured and in return, the company gets free interactive content for their emails.
Customer Experience
This trend goes hand-in-hand with the other two mentioned above.  Customer experience is defined by the impression your customers have of your brand throughout their buyer journey.  The results of their view can alter and impact various factors of their experience.  Consumers now crave the same kind of experience they would have if they were in your store/restaurant face-to-face.  Businesses need to focus on finding a way to emulate this same sort of experience consumers would have if they were physically at a location even though they are pursuing their experience online.  With so many people shifting their purchases online, many for the first time, now is the time to make a truly memorable online experience.  The better the customers' experience, the higher probability for a repeat sale, better perception of their brand, and even positive word-of-mouth spread.
A few of the basic concepts of customer experience marketing include:
Helpfulness
Personalization
Customer-centricity
Plain Text Emails
In 2021, time and resources are a luxury for many people working in email marketing.  Last year forced companies to sit back and access their way of work.  Were they working in a smart way?  Were the time-intensive tasks really delivering the best ROI?  It turns out, after years of implementing ways to increase the functionality and aesthetics of emails to make them more visually appealing with more bells-and-whistles, in a crisis or crunch email marketing can just as easily be stripped back to its basics of plain text.
Many companies have already implemented plain text emails for their valuable customers and onboarding purposes.
Studies have found that these emails can do the same thing an email that is heavy with HTML can do.  In fact, these emails often seem more personal, like a 1-2-1 type communication. These more personal emails tend to have a better conversion rate since they are less sales-y.
Final Takeaway
When writing marketing emails, remember to think of how you would deliver the information to someone one-on-one.  As marketers, it is easy to fall into the routine of speaking only in "marketing speak."  Remember to be mindful that each person you are sending to is an individual.
Following these 2021 email marketing trends to help increase your email marketing footprint now and in the future.