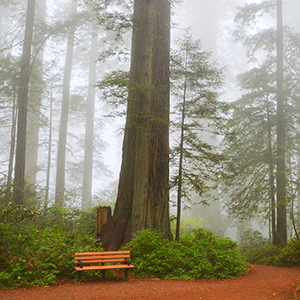 One Order = One Tree Planted
04/19/21
"I think that I shall never see
A poem lovely as a tree."
So wrote famed poet Joyce Kilmer in her poem Trees in 1913.  Little did she know just how vital trees are to our society and our planet. Trees work and help us, when properly cared for, trees are valuable assets worth 3x's your initial investment.
The benefits of healthy trees include:
Healthier People: 100 trees can eliminate 53 tons of Co2 and 430 lbs. of other air pollutants annually.
Healthier Communities: Tree-filled communities statistically report less cases of domestic violence and are safer and more sociable than others.
Healthier Environments: 100 fully grown trees can capture approximately 139,000 gallons of rainwater annually.
Utility Savings: Strategically placed trees reduce the costs of running air-conditioning up to 56% annually. Similarly, evergreen trees provide a barrier to winter winds that can reduce heating costs up to 3% annually.
Better Business: Consumers are apt to shop for longer and more frequently in tree-lined commercial areas, leading to greater spending.
Higher Property Values: Large trees not only add curb appeal to a home, they can also add to a home's sale price.
There are 154 national forests in the US, all managed by the U.S. Forest Service, a division of the United States Department of Agriculture.  The largest National Forests in the country are spread across the Western half of the United States, spanning as far north as Alaska and south to Arizona.  The largest National Forest in the nation, the Tongass, is in Southeast Alaska.
How Do We Protect Our National Forests?
The national forest network is protected by the U.S. Congress through legislation, as well as through resources and organizations at the local level. Forest Service officials within the local area work to constantly plan and make decisions about what activities will be allowed to happen in national forests. They are required to involve the public in these decisions.
These include:
Building Trails
Reclaiming Old Roads
Building New Roads
Allowing A Logging Project
One Order = One Tree Planted
Triadex Services shares the growing concerns about the environment.  Which is why, in addition to offering a variety of marketing solutions including many environmentally friendly options, our program, Triadex Cares, plants a tree in a national forest for every order placed.
According to an environmental impact study done at the University of South Florida, one tree can offset the carbon impact of a direct mail campaign in less than five years.
Triadex Services is responsible for the planting of 1000's of trees within the United States through our partnership with the National Forest Foundation.  With your continued support, we are helping to reduce the direct mail carbon footprint.