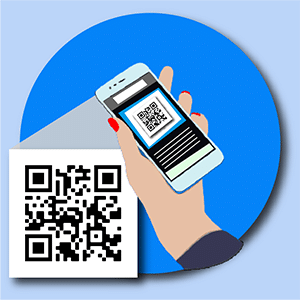 Utilizing QR Codes in Direct Mail Campaigns
05/17/21
When restaurants were able to start opening to dine-in customers, many of us found ourselves "re-introduced" to that interesting looking black and white square, the QR code.  With just a click of your smartphone, the restaurant's menu popped up on your screen for you to peruse.
The result allowed restaurants to provide their menu in a safe COVID friendly manner without needing to downsize their menu to fit on disposable versions to meet safety regulations.
This resurgence asks the question then, what else could the little boxes be used for?
The answer?  How about adding content to Direct Mail?
What is a QR Code?
A Quick Response Code is the matrix barcode you see on a lot of on products, print ads, and other items. The codes are designed to be machine-readable to obtain information.  QR codes have been widely accepted as a great means to communicate information to smartphone users.  It allows the user to scan the QR codes using their cameras without downloading multiple apps.
More recently, Android has made the process even easier with Google Lens and native QR code scanning incorporated into their existing camera app.
This has turned QR codes into a mass-market direct mail trend widely used by many businesses.
Graphics vs Info Text – The Juggling Act of Direct Mail
If you have experienced the process of creating a direct mail campaign, you probably know the frustration of figuring out how best to convey all the info needed with the graphics you know will grab a consumer's attention.
Stop the juggling.  Instead, use a QR code.  A QR code will allow you to reduce the amount of text needed on a direct mail piece.  This provides more space to include the graphics you know will help reel them in.
Most consumers do not want to read long descriptions and explanations, they want to act fast. Scanning a QR code will allow the consumer to:
Instantly connect to additional info.
Initiate a phone call.
Go directly to the ordering page of a website.
This can speed up the decision process and allow an interactive experience that will be memorable to the consumer and help build a positive brand image.
Although most companies use QR codes to guide consumers to their website, below are a few dynamic options:
Allow customers to place an order.
Share a downloadable coupon.
Add an event like a grand opening to the calendar.
Open a map to pinpoint your business location.
Use the code to start a phone call to your business.
Direct the consumer to a video.
Send customers to your social media.
Direct mail marketing is evolving, and consumers are looking for direct mail to be informative and interactive.  By using a QR code on direct mail pieces, you combine the online and offline world and create a universal customer experience.  Upon scanning a QR code, consumers will get a chance to visit your website, navigate to your location, place an order, leave a review, and more.
There are many ways to use QR codes to enhance direct mail.  Contact us today to find out more!