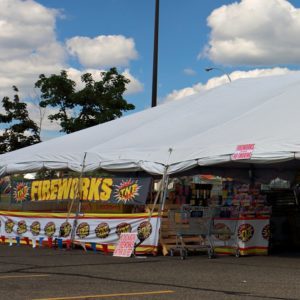 Firework Sales Industry Reports Enormous Success with Plastic Postcard Marketing
04/23/2020
As we've stated in previous articles, history is on the side of direct mail.  Mail marketing is one of the oldest marketing methods and until not that long ago, mail order catalogs were how most people purchased items not readily available in their immediate area.
With the digital age, print catalogs have become less common, but mail marketing of promotional materials is as popular as ever and shows no sign of slowing down.
Plastic Postcard Brings Highest Redemption Rate for Fireworks Marketing
Recently we received some incredible feedback from a client in the fireworks sales industry.  He related to us the success of his plastic postcard promotion campaign.
After beginning with a 300,000-piece order, the client doubled the following one after seeing an average sale amount of over $100 per customer when the postcard was redeemed. This client also informed us that he was transitioning his entire budget from catalogs to Triadex standard plastic postcards for future marketing.
He went on to let us know he was sharing tales of his success to all his friends and family in the industry and referring them directly to Triadex and our products.
Overall, this extremely satisfied client stated it was the, "Best marketing he's ever done," and had the highest redemption rate.
Fireworks Email Marketing combined with Direct Mail will Increase Sales
Social media and email blasts have expanded our ability to reach people. Putting that together with traditional direct mail marketing approaches like Triadex's plastic postcards mail promotions is a very viable means of marketing.
As our client in the firework industry has already seen, direct mail offers one of the most reliably efficient ways to advertise, gain more leads, and increase sales.
Plastic Postcard Promotions Make Tracking Results a Snap
Digital ad buys and spending money on "impressions" have become a good additional way to expand your fireworks direct mail marketing. Both offer success tracking to gauge how effective your campaign is.
As our fireworks industry client saw, the promotions brought in a higher average of sales per transaction.
Plastic Postcard Promotional Sales Provide a Higher ROI
Sending out a direct mail campaign in the form of plastic postcards is relatively economical. The Postal Systems mass mail rates are available for every form of direct mail.
At Triadex, we understand and focus on creating the most effective and economic mailing promotion you can find.  Your mail pieces will be customized and paired with the right mailing lists to cast the widest "net" to capture new leads and sales.
At Triadex, we know how effectively a cheap direct mail campaign can aid you in expanding your customer base.   The flexibility of direct mail paired with affordability make it an excellent option for you to create a consistent marketing and branding program.