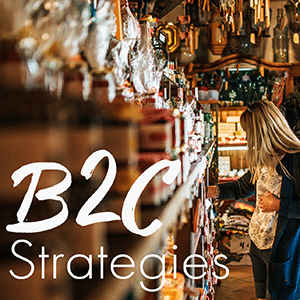 B2C Strategies to Gain New Customers
10/04/21
As you may have seen, the speed of economic growth is back on the rise. People are back, both shoppers and small business owners alike. Shoppers are ready for new products and brands. With customer acquisition as a focused priority for the remainder of 2021 and into 2022, the improvement of customer acquisition costs is just as important.
We're here to help you learn a few of the B2C strategies to gain new customers. At the base and foundation of every plan is a strategy, and that's a great place to start.
Research and Planning
Don't become a statistic. Billions of dollars spent towards advertising are wasted each year because they don't engage potential customers. A starting point for this is correctly determining the appropriate target market and audience.
Start close to home – start with your current customers. Uncovering your customer demographics is important but it's only half of the full picture. Figuring out the real reason why people buy and use your products will help you discover the rest of the picture.
At Triadex, we can help with that research. Our data mining services will analyze your customer list to determine demographics such as:
Income
Life Events
Buying Propensities
and More
This helps determine the key traits of your customers. In other words, it helps you to see what your customer's lifestyles "look like."
Utilizing that information, we can then create a list of potential new customers who "look like" your successful customer lists.
Gaining New Customers with Catchy Content
2020 changed the game for how many companies are focusing on content. More companies have put an increased effort into their content marketing. The pandemic ramped things up by putting an emphasis on companies finding a way to connect digitally to their customers and potential customers. Studies have proven that more than 70% of brands believe their content market strategies were more successful in 2020 than in the previous year.
Choosing the best form of content marketing for your audience is important. The content you share needs to resonate with your target market – who and why you're trying to reach them. Trying different tactics is helpful, not every series of content will work, sometimes it takes some experimenting.
Of course, if you pay attention to the market, you will see other content trends out there that may be gaining traction. Studies have shown that being inclusive and authentic with your consumers will go a long way. Make sure your interactions are fun and engaging. In today's world, people are constantly bombarded with content, more than they ever were before. With that being said, the attention span for the average person has diminished to roughly 8 seconds.
That doesn't allow much time to grab people's attention!
Using polls and quizzes may be a good way to keep people engaged. Video has also proven effectiveness, with 87% of marketers stating that they've received a positive ROI from video content. Fun aside, people still want content that is going to add value to their lives – make things easier or better. You want to find a way to tap into your customers' needs and wants when creating your content. In a world where there are so many views and opinions loudly displayed, people want to connect with brands that are transparent and real.
Diversify Your Channels
Every audience is different, thus why your channels should be different as well. You'll have better success using certain channels for certain audiences. Some people may prefer email, direct mail, social or digital ads, or even influencer marketing. Referral programs and SEO are also great tactics to keep in the mix.
With there being an overwhelming amount of information and ads thrown in front of consumers every day, finding the best way to connect with them and break through the clutter is crucial.
Keep in mind, the selection and use of channels needs to be balanced. Too many channels and too much information can work against you and lessen your impact.
Deciding between multichannel vs. omnichannel strategies is an important deciding factor as well. Multichannel focuses on using separate strategies for each channel you use, whereas omnichannel, the customer is the central strategy, and their experiences are consistent across each channel.
Retaining Your Customers
Retention!
This one is probably the most important! If you've spent the time working through the previous strategies of this article, then you know you've dedicated time and effort to put what you have in place. Nurturing these new or current relationships is critical to help you continue to build on your success. It will take more to maintain and retain these customers, but it's much more expensive to acquire new customers.
One historically effective means of maintaining customer retention that still works well today is through Direct Mail. The fact that your current customers have purchased from you before makes it an easier decision/transition for them to continue to do so. Retaining customers is a constantly evolving strategy. As the market changes, your customers will change, along with their expectations. You'll need to adapt to stay ahead. To ensure continued customer acquisition, utilize b2c strategies to gain new customers.