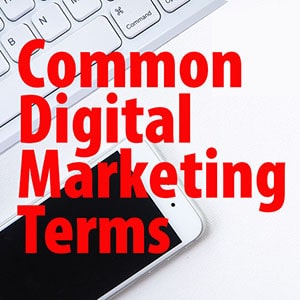 Are You Up on Your Digital Marketing Terminology?
11/9/20
The world is becoming more digitally comprehensive every day. This is especially true in the Marketing field.
Whether you have been using digital marketing for a while or are just starting to dabble in the vast array of options, knowing the most common terms in digital marketing will go a long way in helping you understand the process and results.
Digital Marketing Terms to Know
To be more informed about digital marketing and how campaigns and results are determined, here are several of the basic terms you will most likely run across:
Clicks
This one is fairly straight forward and exactly what it sounds like, an ad is clicked by the user.
Conversions
When a user "clicks" you are one step closer to making a conversion.  Conversions result when the user completes a desired action as a result of your ad.
This may include:
Signing up for your eNewsletter
Filling out a form
Making an online purchase
Downloading an eBook or case study
Conversions happen as a result of a click and are more valuable.
Cost Per Thousand
AKA cost per mille – CPM is a term used when referring to ad impressions per page. The pricing is based on a fee per 1,000 impressions for a single ad, such as $2.00/1,000 impressions.
This means if your ad receives 3,000 impressions, you'll pay $6.00.
This format is also used as a pricing model and a reporting metric.
Impressions
Impressions are the first step in creating a conversion and happen before everything else.
Simply put, an impression is a view of your ad.  Whether this is in the form of a Text, Banner, or even Video ad, an impression is registered when the ad is viewed on the page by the user. No interaction with the ad is required by the user except to be viewing the page when the ad displays.
Pay Per Click - PPC
Also referred to as cost per click – CPC, PPC is a paid advertising term.  In this model, you agree to pay a fee to the advertising platform each time your ad is clicked on.
This platform is primarily used to determine the costs of displaying ads to users. Google AdWords, social media, and more platforms use this model as both a metric and a pricing model.
Putting it all Together
There are a number of considerations when finding the right balance in your digital marketing budget.
If you stick to a basic message/ad on a platform that provides little to no fees for impressions, millions of users may see your ad but, you won't receive any clicks.
The PPC model provides an incentive for creating a highly engaging digital ad that encourages more "clicks" and "conversions" and subsequently, more sales.
However, if you create an extremely engaging ad that directs the user to a not so engaging landing page, you could eat through your budget quickly, without achieving a single conversion.
Putting together the right balance of impression packages, PPC plans, and high yielding conversion landing pages will all contribute to an effective digital marketing strategy.
To learn more about your options and how these terms in digital marketing work together, contact Triadex Services today.