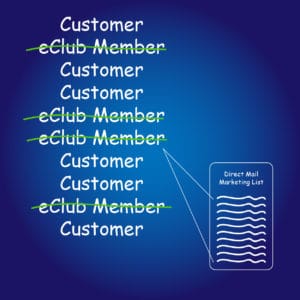 Remove Your eClub Members from Your Direct Mailing Lists
Let Triadex Help You Remove Your eClub Members from Your Direct Mail Campaigns
Did you know you can remove members of your email club from your direct mailing lists? In fact, we can help. Simply send us your email list. We typically match 1/3 of your list to physical addresses which we then remove from your direct mail campaigns.
Direct mail is a PROVEN way to acquire new customers. Studies show that 39% of customers try a business for the first time because of direct mail advertising. This way, you are targeting and reaching new customers with your direct mail programs!
By separating your online and offline marketing strategies, you can perform A/B tests to see which method works best. At the same time, multi-channel marketing is gaining ground. Studies show that targeting prospects through a multi-channel approach improve ROI by up to 35%.  For example, are you looking to grow your eClub? Include a QR code on your direct mail piece that links to your sign-up page. This will also increase your website visitors which could help your ranking in search engines.
As you can see, Triadex can help you implement and test a variety of approaches to grow your sales.
Contact us for more information on this topic as well as other unique ways to quickly increase your sales!