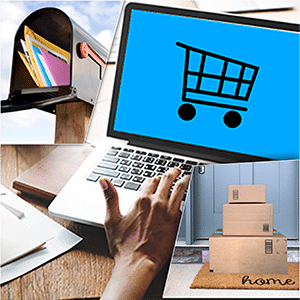 Offline to Online – A Direct Mail to Internet Campaign Case Study
09/20/21
CHALLENGE
A national sportswear merchandiser and athletic organization was looking for a new way to draw customers to their website and increase sales. With an offline to online approach, direct mail (offline) will motivate customers to visit their website (online) to purchase.
They wanted a company that could handle not only the piece design but manage ALL the details of the campaign.
SOLUTION
The company hired Triadex Services to produce and mail 10,000 card mailers for their campaign. The piece was mailed November 2nd and the offer expired November 21st.  This short-term campaign, designed for a quick "Call to Action", offered a $25.00 gift card that could be used towards the purchase of $75.00 or more online. On the back of the card, the sportswear merchandiser gave each customer a unique promotion code to enter on the website.  This allowed them to track which sales were a direct result of the campaign.  As a result, Triadex was able to provide a full report on how well the campaign did.
RESULTS
The sportswear merchandiser had better results from their Triadex offline to online campaign than any other direct mail piece! Within just 18 days, the sportswear merchandiser already had a 7% redemption rate, compared to the 0.5% for seen with most typical direct mail campaigns. The average transaction before the mailer was $60. However, that jumped to $95.40 after receiving the card mailer.
The sportswear merchandiser's gross revenue in 18 days was $66,400, a record for the organization.