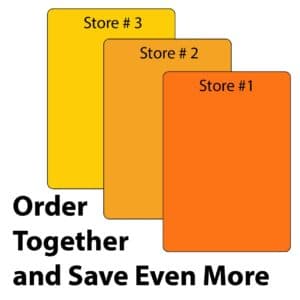 Franchises Save 20% by Grouping Card Mailer Orders
CHALLENGE: Triadex Card Mailers contacted a national casual dining restaurant chain with around 150 locations. After sharing our average redemption rates, the restaurant wanted to see how well Triadex Card Mailers would perform for them.
SOLUTION: For campaign 1, the national restaurant setup a 2-store pilot campaign with our 1-detachable card template. They offered $5 off a $25 purchase. Within 9 months, corporate sent out a newsletter where they encouraged their franchisees to also participate. During their second campaign, thirteen different franchise locations participated in this program. All locations offered $10 off a $30 purchase. All stores were able to get lower pricing because Triadex Card Mailers grouped their orders together.
RESULTS:
The first campaign ended with a redemption rate of 9%
The restaurant chain reported a 125% ROI from the 2nd campaign
The average redemption rate for the second campaign was 10.5% and the highest per store was 21%
Save even more when you group your order together with other locations within your franchise!