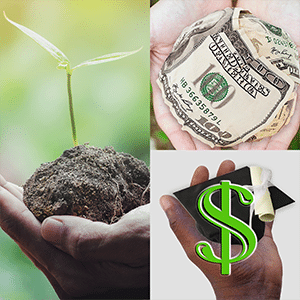 Triadex Services – A Community Conscious Company
1/25/21
At Triadex Services, we work hard to be an excellent marketing company for our clients. But we don't stop there.  In addition to our passion for marketing, entrepreneurship, and technology, we also do what we can to make our community a better place to live, work and grow.
One Order = One Tree Planted
At Triadex, we understand and share the growing concern about the health of the world around us. We work to positively impact our community and environment.  Our company actively supports green initiatives.
For example, did you know that a single tree can offset the carbon impact of one direct mail campaign?  It can, and in less than 5 years! This according to environmental impact research done at the University of South Florida.
Consequently, with our Triadex Cares program, we plant one tree in a national forest with every single order!
Triadex Services has been responsible for planting thousands of trees, all within the national forests of the U.S. This program is in partnership with the National Forest Foundation. Through your support, we are working to eliminate the direct mail carbon footprint.
Giving Back – Especially in Times of Need
We recognize that we are all connected and are proud to be able to do our part in helping others by giving back.
During the height of the 2020 pandemic, we worked together with Feeding Tampa Bay to make monthly donations to help those most in need.  We chose this organization because it helps our local community, both young and old, by providing food to families.
Every dollar donated provided 10 full meals.  At times like these, it helps to remember our shared humanity and help one another during this time of uncertainty.
Additionally, we've regularly donated money through the years to charities at the local, national, and international levels including:
American Red Cross
Ample Harvest.org, Inc.
Back to Basics Charter School Foundation
The Ed Keating Center
Feeding Tampa Bay
Hitchcock Center for Women
Juntos Regalando Sonrisas
Temple Terrace Junior Woman's Club
The Triadex Scholarship
This program supports college students every year with scholarships for recipients who excel academically and in service to others.
The scholarship is achievement-based, awarded to graduating high school seniors or current college students. Students are recognized for their:
Capacity to lead and serve.
Dedication to learning marketing and business methodologies.
Commitment to making a significant impact on their schools and communities.
Through this program, we are committed to aiding as many students as we possibly can and wish all applicants the very best as they endeavor to continue their education!