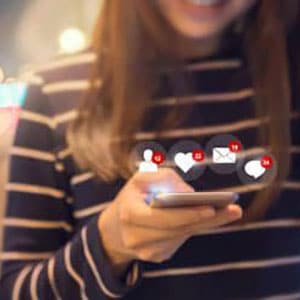 Mobile Marketing Statistics to Help You Plan for 2018
Inbound marketers have been following the rise of mobile marketing for years. The mobile marketing statistics below will help you understand mobile marketing isn't just about apps and your website. Even your emails need to be fully optimized to offer the best experience on the go. Understand why and also provide some guidance when shaping your mobile marketing strategy in the coming year.
Consider how ingrained mobile devices are in our lives as both consumers and professionals today.  This "new norm" alone tells us that mobile marketing should no longer be considered a "trend," it should be a staple.
Use Mobile Marketing Statistics to Help You Plan a Mobile Marketing Campaign
Optimizing for mobile (if not creating a dedicated mobile marketing strategy) is something you should've done by now, but if you haven't, it needs to be done in 2018. No excuses. Still not convinced?  Just check out these mobile marketing statistics.
As of March 2017, 80% of top Alexa websites were mobile adaptive. (Mobiforge)
This is pretty cut-and-dry. If you want your site to perform well, it needs to be optimized for mobile.
51% of all digital ad budgets in 2016 were spent on mobile. (IAB/PricewaterhouseCoopers)
Marketers and advertisers are heavily investing in mobile, which means, most likely, so is your competition. If you want to stay competitive, you need to have a mobile optimization or marketing strategy in place.
By 2018, 8 in 10 email users will likely access their email accounts exclusively from their mobile devices. (email Monday)
Mobile marketing isn't just about apps and your website; even your emails need to be fully optimized to offer the best experience on the go.
40% Of Mobile Searches Have Local Intent. (Google Mobile Moments Study)
Even local businesses need to be equipped with a mobile strategy!
By 2018, American adults are expected to spend on average 3 hours and 23 minutes on nonvoice mobile media. (eMarketer)
That's up more than 1 hour from 2013. It has increased steadily every year since.
80% of internet users own a smartphone. (Smart Insights)
With so many cell phone services giving away free smartphones with their contracts, this number is only going to keep increasing — which is good news for companies with a mobile marketing strategy.
48% of consumers start mobile research with a search engine –but 33% go directly to the site they want. (Smart Insights)
This is why you want to produce valuable content that makes it easy for your buyer persona to find you online. You also want to optimize for mobile search results.
Users spend on average 69% of their media time on smartphones. (comScore)
As a marketer, you need to align with the buyer's behavior. With more than half of people consuming media via smartphones, you need to make sure yours offers the best experience possible.
Google drives 96% of mobile search traffic, followed by Yahoo at 2% and Bing at 1%. (NetMarketShare)
Google doesn't just dominate search on desktop, but mobile as well. If you want to increase your mobile search traffic, optimize for Google on smaller screen sizes. That means truncated titles, meta-descriptions, and careful consideration of Google AMP.
Apps account for 89% of mobile media time, with the other 11% spent on websites. (Smart Insights)
Consumers want to consume media through an app. Provide a great experience for your persona in your app and handle your marketing on the web.
When they are researching however…
33% of consumers start mobile research with a branded website, only 26% with a mobile app. (Smart Insights)
This is why you want to produce valuable content to make your brand the authority in your niche. (Are you starting to see a pattern here?)
80% of social media time is spent on a mobile device. (comScore)
No surprise here. Make sure your social media content (graphics, thumbnails, etc.) look great on mobile. People are much more likely to see it there than on a desktop.
Pinterest is the most mobile social network and 64% of its referred traffic comes from either smartphones or tablet devices. (Mobile Marketing Watch)
Facebook and Twitter get all the attention, but companies targeting mobile users should look to attract them on Pinterest as well.
Over 50% of smartphone users grab their smartphone immediately after waking up. (ExpressPigeon, 2014)
I'll admit it, that includes me. Keep this in mind when scheduling your content or sending emails. If you publish/send early in the morning, people are more likely to be viewing on mobile.
57% of users say they won't recommend a business with a poorly-designed mobile site. (socPub)
A poor mobile presence can make your organization look unprofessional and out of touch with the modern consumer. Optimize for mobile to make the right impression.
The two most popular ways companies are optimizing for mobile are 1. using a simple template that works for all devices (52%) and 2. creating a mobile responsive email template (39%). (Adestra)
Optimizing emails for mobile is the bare minimum. Smart businesses optimize every aspect of their emails to generate more leads and increase their conversions.
68% of companies have integrated mobile marketing into their overall marketing strategy. (Salesforce)
All of the data has shown that mobile marketing is profitable and shouldn't be ignored.
71% of marketers believe mobile marketing is core to their business. (Salesforce)
For many of our tech clients, mobile marketing is the top priority and it has shown to have a high ROI.
58% of companies surveyed have a dedicated mobile marketing team. (Salesforce)
If you have the resources, it makes sense to have a team of people with an expertise in mobile marketing to get the most benefit from your marketing efforts.
Google says 61% of users are unlikely to return to a mobile site they had trouble accessing and 40% visit a competitor's site instead. (McKinsey & Company)
Is your company "phoning in" the mobile experience of your website? Not only are you turning away potential customers, but you're sending them straight to your competitors that provide a better mobile experience.