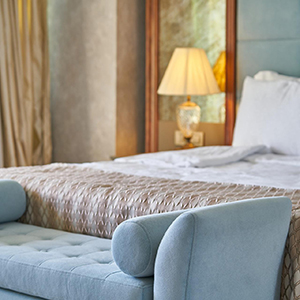 Travel and Hospitality Marketing
05/31/22
Whether you are a smaller chain of motels, or a large international conglomerate of 5 Star Luxury Suites, successfully managing travel and hospitality marketing is key to staying ahead of your competition.
As with the majority of marketing strategies, ongoing essentials include:
Making your brand stand out.
Driving customers to your locations.
Building and maintaining customer loyalty.
Recurringly replacing outgoing customers with new ones.
At Triadex, we've found that an omni-channel approach is extremely effective in accomplishing your marketing goals.
Channels Include:
Direct Mail
Digital Ad Impressions
Connected TV (CTV) Streaming
Direct Mail Marketing
Despite the increase in online and digital marketing, time and experience have shown that Direct Mail is still a powerful tool to keep in your marketing plan.
Postcards are a real, tangible way to make your brand stand out. It is particularly effective in the travel and hospitality industries.
Additionally, direct mail is:
Persuasive, it leads the customer to respond.
Straightforward and easy to recall.
Attractive to everyone.
A reliable way to quickly get your message across.
Increases brand awareness through a very simple method.
Online marketing has become inundated in the last several years with Online Travel Agency (OTA) sites, many of which have shown to be less than reliable.
Choosing to send marketing and info through direct mail for your travel and hospitality brand will help you increase your brand's character. This, in turn, will help increase your existing and potential customers' confidence in you.
A few things to consider when planning and designing your direct mail pieces:
Use Personalization
People enjoy receiving mail that appears to have been sent just to them. Direct mail that is obviously part of a bulk marketing campaign is more likely to be tossed aside as junk mail.
Consider tailoring your mailing list to better target the audience you are trying to reach.
Basic mailing lists can be compiled using median Age and Income Data.
More in-depth lists can target exact age and income as well as
Gender
Marital Status
Home Owner or Apartment Renter
Audience Propensities
And more…
Take Advantage of Audience Propensities
If you are especially looking for potential customers that will be interested in your specific services and facilities, Audient Propensities are a great way to zero in on the best recipients of your mailer.
What are Audience Propensities? Simply put, they are demographic selections designed to predict consumer behavior, as well as product and brand affinities. They provide insight into a customer's likelihood to respond, convert and remain loyal.
For example, consider targeting customers who like to travel by utilizing propensities such as:
Have Travelers Homeowner or Personal Property Insurance
Bought Travel Services Via the Internet
Discretionary Spending on Domestic Travel
Purchase Tickets and Travel 500+ miles for an Event
Travel Shoppers
Mobile App Travel Planner
Cruise Traveler
Plan a major travel purchase in the next 6-12 months
Travel Hotel
Travel Airports
Leisure Traveler
Seasonal Winter Travelers
Another example, if you're a luxury resort that includes a world-renowned golf course, consider having your list seek out related lifestyle propensities such as:
Golfing
Golf Enthusiast
Have Household Membership in Country Club or Golf Club
Affluent played golf in the past year while on a trip
Watch Golf Channel
Purchase Golf Footwear
Travel – Fly First Class
Travel – Luxury Accommodations
Pay For Quality Travel and Vacation Accommodations
Audience propensities are an excellent way to create hyper-targeted mailing lists for your marketing campaigns.
Digital Ad Impressions
More than likely, you've seen at least 10 … or 10,000 … examples of digital ads in the last few years.
To help ensure your ad gets noticed and not ignored, consider these best practices.
Present a Clear Offer
Your offer is what motivates viewers to click on your ad. It presents your business's greatest features and is the main focus of the campaign. It can also be what distinguishes you from competitors. This part of your ad should take up the most space and be the primary focus of the viewer's attention.
Remember Your Logo and Make Sure You are Matching Your Brand Guidelines
Display ads are an inexpensive way to improve brand awareness. The fastest and easiest way to accomplish this is with a company logo that is clearly visible in the ad.
Brand guidelines are what consumers use to recognize you. This makes it essential to ensure you are using brand consistency across ALL your marketing channels. Brand loyalty can be lost if there is no consistency in your company's marketing.
To help ensure you are maintaining brand consistency, consider these steps:
Make your ads visually match your landing page. This includes colors, fonts, and graphics.
If you are using a dedicated landing page for your offer, keep it in the same style as the rest of your website.
A smooth transition from your ads to your landing pages and then to the rest of your website will boost a user's confidence and their experience with your travel and hospitality marketing.
Choose an Enticing Call-to-Action
Now that you have your promotion created and ready to deploy, a Call-to-Action (CTA) is crucial to making a digital ad campaign as successful as possible. Adding a link in the form of a button or phrase on your ad increases the click-through rate.
Remember, you don't just want people to see the ad, you want them to respond to it.
For example: If your ad is offering an enticing promotion like "Stay 2 nights and the 3rd night is free" you're CTA link might say something like: "Click Here to Learn More" or "Click Here to Reserve Your Room Today"
Additionally, using bold colors and fonts make it easy for the viewer to find the CTA and act on it.
Create Multiple Formats
A good campaign will perform even better if it's set up to avoid "ad fatigue".
Ad Fatigue, aka Creative Fatigue, occurs when customers start to ignore the digital ads in front of them due to sheer repetition.
There are benefits of creating multiple designs for the same ad and rotating them in front of the viewers, including:
Decreases the possibility of your offer being ignored.
Provides more opportunities for the offer to make an impact on the viewer.
Results in gaining more ad impressions within your campaign.
Video Marketing with Connected TV
People are continuing to convert their primary TV viewing habit from traditional to online streaming services. These services are going to continue to become the preferred way to watch TV and movies.
Free and reduced subscription rate options such as Crackle and Hulu, or Sling incorporate ads that look just like traditional TV commercials.
Consequently, it's now good practice for travel and hospitality marketing plans to also budget for Connected TV (CTV) ads along with, or in place of, traditional TV.