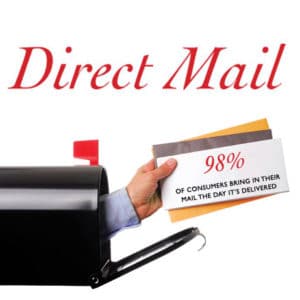 Direct Mail is Still an Effective Business Tool
This day and age businesses rely heavily on email marketing and other online channels like video and social media. With these newer options becoming more popular, you may find yourself asking, are direct mail pieces still an effective marketing tool?
The short answer, Yes.  Plus, when strategically integrated with digital marketing it is even more impactful. Here are five reasons that card mailers are an effective business tool and relevant for demand generation and lead nurturing.
1. It's Personal
With direct mail marketing, you can add a personal touch and send custom content/offers to specific customers. Most customers look forward to seeing what they get in the mail. "70% of Americans say mail is more personal than the internet."
2. It's Targeted
When you work with an experienced direct mail company you will have the ability to send offers that are specific and targeted. When you can identify people and their preferences you can create specific offers to reach them. "54% of consumers said they want to receive mail from brands they're interested in."
3. It's Accountable
Card mailers give you the ability to track the success of your campaign. If it's counting the number of redemptions, visits to landing pages, or inquiries generated. By tracking and analyzing results, you can determine if your campaign is working and if you need to make changes. "The average ROI for direct mail piece campaigns can reach over 30%."
4. It's Integrated
Direct mail can easily be integrated with any other marketing campaign including: Email, Web, Media, Social, and Paid advertising. Integrating direct mail pieces with these other channels increases results. "When asked, "Which is more effective at getting you to take action? 30% of Millennials said card mailers, 24% said email."
5. It's Tangible
Direct mail comes in all shapes and sizes! Options include postcards, brochures, letters, coupons, tri-folds, and so much more. Direct mail is the only channel that allows you to physically place your message in your customers' hands. "Brand recall was 70 percent higher among participants who were exposed to direct mail ads rather than to digital ones."
Bottom-line, consumers are still engaging with direct mail, and this love is expected to grow 5.4% for B2B Direct Sales and 5.2% for lead generation. Triadex Services has over 16 years of experience and has worked in every industry managing all types of campaigns. We know what it takes to achieve your marketing goals.