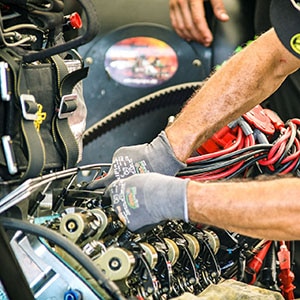 Increasing Referrals Through Automotive Repair Marketing
11/29/21
The best marketing strategies for automotive repair marketing are those that will increase referrals. Word of mouth is a tried-and-true way auto repair shops can increase their client base.  Investing in low-cost marketing that targets old and new clients alike will keep your brand at the top of their minds.
Increase word-of-mouth referrals with the following strategies:
Strategies to Increase Word-of-Mouth Referrals
1. Thank Your Existing Clients through Direct Mail
Let your existing clients know how much you appreciate them while at the same time, utilize them to increase word of mouth.  Here are a few ways this could be done:
Send a gift card providing a discount on future services.
Expand on the gift card idea by providing a "one for you – one for a friend" double coupon mailer.
Offer a referral bonus in the way of discounts for every new customer they send your way.
All of this will increase exposure to your brand and get people talking.
These thank you gifts can quickly become long-term investments that encourage word-of-mouth referrals.
2. Use Email Newsletters to Keep in Touch
Email newsletters are a great way to stay in front of your customers. However, rather than sending email newsletters that do nothing but promote your business or ask customers to promote your business, send emails that entertain or inform your audience. Content marketing through email is a way to keep your customers engaged without selling to them.
90% of consumers find custom content useful, and 78% believe that businesses that deliver custom content want to build a good relationship with them.
So, instead of sending the same 10% off coupon month after month, consider writing an email newsletter talking about a helpful piece of advice.  For example, in the fall, consider a quick article about the best way to prepare a vehicle for the changing seasons.  Then, next spring, provide a checklist for getting a vehicle ready for a vacation road trip and include some fun ideas for car games to keep the kids occupied.
3. Target New Movers with the Triadex Services New Mover Trifecta
According to a report by the U.S. Census Bureau, approximately 40 million households move each year.
This means that businesses face the chore of replacing approximately 20% of their customer base in any given year. Fortunately, this also means there are new potential customers moving in at the same time.
Not long ago targeting new arrivals to an area could only be done effectively with a direct mail campaign.
Direct mail is still an excellent channel to reach out to new customers, however, thanks to the digital age, businesses now have the added options to reach out even more through new movers digital marketing campaigns.
Advertising on multiple platforms with our new movers trifecta is a cost-effective and easily trackable way to establish multi-media marketing plans that can include:
Direct Mail
Digital Ads
Connected TV
4. Get Reviewed
Thanks to the internet, word-of-mouth referrals can be accomplished between complete strangers. When someone hops on Google, Yelp, Bing, or any other search platform to find out more information, reviews from actual customers provide an immediate idea of what to expect from your business. The more reviews, the more likely a potential new customer will be willing to give you a shot.
Don't hesitate to ask your customers for feedback.
5. Keep Providing Quality Service
And of course, the #1 way to keep a customer's loyalty and encourage them to refer others to you through your automotive repair marketing is to continue providing the best services and experience they've come to expect.