Triadex Services is your first choice for printed mailing solutions and direct mail campaigns!
Did you know that direct mail is still one of the most effective marketing tools out there today? That's right, despite all the innovations of technology and the huge explosion of digital marketing, there's still so much to be said for a simple piece of mail. That is, of course, when you handle that "simple" piece of mail properly. There are several things to consider when creating laminated mailers, but when you work with us, we'll take care of everything for you.
Contact us to discuss your laminated mailer needs and find out how we can help you step up your direct marketing campaigns. And while you're here, keep reading to learn more about the benefits, uses, and the case for direct mail campaigns using laminated mailers so that you'll know exactly what you're getting when you invest in this option.
As the name implies, a laminated mailer refers to any piece of direct mail marketing material that is laminated for more durability and to better get people's attention. This could be a postcard, a flyer, a coupon, a discount card or membership card, etc. – whatever you need, laminated mailers can deliver. While your digital marketing team is honing their strategies for your online campaigns, take the time to reacquaint yourself with direct mail marketing and what it offers, courtesy of the ever-faithful laminated mailer.
The Case for Laminated Mailers: The Statistics
Direct mail has that email marketing can only dream of, even in the digital age that is the 21st century. Effective, well-planned campaigns can see open rates as high as 90%, which is five to nine times higher than other advertising mediums. Here are some other important statistics which will show you that this type of marketing is trending for a reason.
Of consumers surveyed, 70% say direct mail offers a more personal interaction than online marketing.
42% of all recipients will read or scan any direct mail that is received.
39% of consumers say they try a business for the first time due to a direct mail flyer or mailer.
54% of those surveyed said they would like direct mail from companies that interest them.
Of those who responded to a direct mail piece, 62% made a purchase.
Exceeding $38.5 billion, direct mail spending accounts for the majority of local advertising spending in the U.S.
As you can see, direct mail is an enduring, successful marketing option for most companies and industries. Some people assume that it seems slightly "out of date" because it comes through the postal mail, but the statistics can't be argued—direct mail works, provided that you know how to work it.
There was even a study done through the collaboration of the USPS and the Center for Neural Decision Making that is part of the Fox School of Business at Temple University, which showed that:
Consumers spent more time perusing direct mail than other advertising media.
Direct mail causes emotional engagement to increase.
Participants reported remembering messages more clearly and quickly.
People also reported assigning a higher value, subconsciously, to the product or service.
People just react better to direct mail—there are no two ways about it. It's tangible, eye-catching, and can be personalized in so many ways. And, when you take the extra step to laminate your mailers or choose premium card stock, you'll create durable mailers that are still cost-effective and sure to get results.
Uses for Laminated Mailers
There are several ways that you can use laminated mailers, from menus to store openings and even just as promotional tools or coupons. These are great for direct mail campaigns during inclement weather, such as during winter or spring when things are damper than usual, and the mail is susceptible to getting damaged.
The most popular requests that we get for laminated mailers include:
Bar and restaurant menus: Delivery demand has increased. With laminated menus, you'll have an easy-to-clean, durable option for people for your takeout menus that you can use as direct mailers and more.
Parts lists: A lot of companies like creating laminated mailers that include a full list of the parts that they carry, such as in the case of an auto shop. They might also include specials or coupons, but it's mostly about providing people with a reference tool that they can use without spending a fortune. Laminated mailers are great for that.
Price lists: In the same regard, we get a lot of requests for price lists in the form of laminated mailers. People want to ensure that everyone knows their prices and there is no confusion—what better way than to send a mailer with a price list? You can even customize it to the name of the recipient or business, making it that much more effective.
Direct mail coupons: Coupons are always going to get the attention of your audience. If you're trying to increase sales or drum up new business, this could be a great use of laminated mailers. Plus, laminated coupons look a lot nicer than paper or even magazine print flyers.
Maps or bookmarks: Laminated mailers make great maps for cities, tourist attractions, zoos, etc. They can also be used, for example, by the library and turned into unique custom bookmarks for the recipient. This offers a promotion and something that people can use, which is great. As far as maps go, people love knowing their way around and how to get somewhere. Add a map to your mailer and watch the responses come in.
Sales presentation mailers: Maybe you're just looking to create a dynamic sales presentation tool that people can hold in their hands and that gets their attention. If that's the case, you'll find that laminated mailers can definitely do the job.
Of course, this doesn't mean that you can't use laminated mailers if your need isn't on the list. Essentially, these tools can do and be whatever you need, from simple "welcome" mailers to carry out menus that are sure to get noticed and more. Get creative and see how you can make your own campaigns stand out and deliver more than the typical direct mail strategy.
Lamination offers several perks, which we'll discuss further below. However, the added benefit of improved quality with such an already versatile marketing piece is going to make it easy for your business to stand out.
The Benefits of Laminated Mailers and Other High-Quality Direct Mail Pieces
When you choose lamination, you are choosing to deliver high-quality marketing pieces to your audience so that you can stand out from the competition and get their attention. And when you choose direct mail, you're making an effective choice for your marketing efforts. There's a reason that direct mail is so popular. It's easy to catch people's eye when it's done correctly and these days, with the decrease in mail being delivered, there are fewer things to look at.
Here are some of the other benefits of using laminated mailers for your direct marketing:
Direct mail campaigns are cost-effective. Even a laminated mailer can be printed for a fraction of what you'd spend on other marketing methods. Plus, you can size and scale your designs to fit different products and types of printed materials based on your budget too.
You can create highly targeted marketing campaigns with direct mail. Personalized information can be added to these mailers and will help you attract the ideal audience for your efforts. Plus, you can create as many mailers and campaigns as you have goals to achieve.
Mailers are tangible. Whether you choose a postcard, pamphlet, menu, laminated coupon mailer, or any other type, it's something that people can see and hold, which makes it easier for them to take ownership of the idea of doing business with you.
You can easily pair your direct mail campaigns with digital marketing efforts to create a whole marketing package that offers continuity in marketing through different mediums.
You will have the option to create a range of different printed materials with laminated mailers. Depending on what you have in mind, it can be customized and printed, and then laminated to ensure that it's durable and will stand up to the elements.
Direct mail is familiar, so laminated mailers will be much more accepted than other marketing efforts. Even if people have never heard of your business, they know what direct mail is and will appreciate your mailer for what it offers.
Laminated mailers offer easy tracking with response rates and conversions. You can keep a close eye on your campaigns and even assign specific codes to each campaign so that your audience will reference the right mailer and help you know which was most effective.
Direct mail has shown to be easier to process because it requires fewer resources from the brain than most digital marketing campaigns. People can easily get to the point, digest your offering, and decide how to proceed.
People love getting unique mail, even if it seems to be "junk" at first. The more creative you get, and the more high-quality resources you choose, the more likely you will be able to convert people because you're giving them something that they're not going to get just anywhere.
Now, let's talk about how to make sure that your campaigns are a success.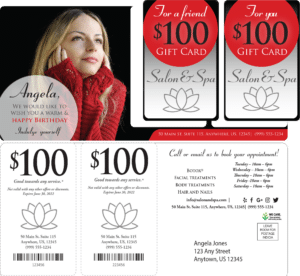 Tips for Success with Direct Mail Marketing
Of course, no matter how good of a mailing option this might be, there's still something to be said for doing it right. While almost any piece of direct mail will catch someone's attention for a second, you need it longer than that. You want to captivate your audience, cause them to look deeper, and have them peruse the entire piece So, how can you do that? Here are a few tips we've found that help our partners succeed.
Make Sure That You Have a Clear Message
You can't send one mailer with five different target goals—that's not effective, nor does it make sense. Your direct mail campaign may produce other results than your intended goals, but that's just a bonus and shouldn't be a focus. Stick to one clear, concise, effective message.
Keep the Design Simple
You do need to choose eye-catching colors and text, but you don't want the laminated mailer to be too cluttered. If it's too busy, people will get tired of looking at it or won't want to bother with trying to figure out what they're being marketed.
Stick to basic fonts that are easy to read so that your consumer won't have to try to decipher whatever the postcard or mailer says. Keep it direct, use a simple font, and tell them they can go online or contact you for more details.
Time Your Campaigns Properly
The last thing you want is to confuse people or have them miss out because of poor timing. If you're promoting a limited sale, make sure that you send the mailers out early and offer plenty of time for them to arrive. You also don't want to create a campaign that conflicts with another that you're running, so be careful there.
Target Repeat Customers to Increase Remarketing Conversion Rates
This is a great way to go out of your way to get people to give your business a chance. Be deliberate about this and make people feel special, and it will work in your favor.
Test a Campaign on a Small Market First
If you're not sure how it will go, give your laminated mailer a test drive. This will give you the chance to see how things work and whether you should launch a full-scale campaign or not.
Take Advantage of Tracking Codes
You can track your laminated mailers separate from all of your other marketing efforts. This will ensure that you know what kind of results you're getting and whether changes need to be made.
Stay Informed
Keep apprised of direct mail marketing trends and best practices. This is easy to do when you partner with a team like Triadex Services that will handle everything for you.
The last tip, Stay Informed,  is probably the most useful, and that's why we're here. When you choose to work with Triadex for all your direct mail marketing needs, you'll never have to worry about a thing. We'll take care of the details, help you manage and execute winning campaigns, and so much more.
Create the Perfect Laminated Mailers and More with Triadex Services
Are you ready to take your business marketing to the next level? Contact Triadex Services to see how our 20+ years of expertise can help you deliver a better marketing message, no matter what industry you're in. There is truly no limit to what you can do with direct mailers, and when you choose to upgrade to laminated styles, you're sure to get an even better response.
Whether you know what you are looking for and you're ready to start launching campaigns or you still want to learn more about direct mail and what it can do for you, we're ready and waiting to answer all of your questions and help you get started.
Our team offers everything that you need, including eco-friendly printing solutions and a commitment to reducing our environmental impact by giving back and going green. Plus, when you work with Triadex, you'll enjoy:
Premium quality
Selection
Expertise
Satisfaction guaranteed
And so much more!
Get ready to take your marketing to the next level with Triadex. See what laminated mailers can do to upgrade your business and increase your brand reputation, and more. When you choose to work with Triadex, you're choosing to give your audience the best in direct mail marketing every time.
Contact us now to discuss your needs or get started on planning your laminated mailer campaigns!