Savings are always in style – Partner with Triadex for the best direct mail coupons and more!
Who doesn't love a good coupon? Not only does it reward people in the way of savings, but it can also help sway their purchase decision if they're on the fence. Perhaps someone was considering your business or the types of services that you provide. If a direct mailer shows up with a printed plastic coupon, they're that much more likely to come see you than your competition. Even if they forget the coupon (or if it's for a service they don't need), they're still going to remember your name and have a better impression of your business because their first encounter was through a coupon.
As with all direct mail campaigns, you can create coupons out of just about any material that you want. However, laminated and plastic coupons are much more durable and substantial. They give people a feeling of receiving  a higher-quality marketing message, which can often influence how they feel about your brand or doing business with your company.
At Triadex Services, we specialize in direct mail solutions, including plastic coupons, and can help you get the word out, no matter what "the word" might be.
Read on to learn more about plastic coupons and what they can do for your business.
The Statistics: Why Coupons are Still Successful Marketing Tools
People love to save money. It's not a secret. There are even shows dedicated to the world of couponing, showcasing people who've gotten it down to a science and are getting products for nothing. Some people even end up getting money back when they coupon—but we digress. The point is that coupons are in because savings are always in style. In fact, of the $38.5 billion companies spend on direct mail marketing in the U.S. each year, a large part of that goes toward coupons and discount flyers.
Here are some other statistics to keep in mind when you're considering plastic coupons and direct mail campaigns:
54% of consumers report that they actually want direct mail from brands they're interested in.
Direct mail can have open rates as high as 90%.
70% of consumers say direct mail is more personalized than online marketing.
39% of consumers will try a business for the first time simply because of a direct mail coupon or flyer.
62% of those who respond to direct mailers end up converting and making a purchase.
Not only that, but when it comes to coupons:
2020 saw almost 90% of consumers using coupons in at least one purchase.
60% of consumers said a coupon or discount offer helped their buying decision.
86% of consumers are influenced to try new products because of coupons.
The average purchase amount increases by 24% for those who use coupons.
As you can see, even saving money can cause people to spend more. There's a lot to love about coupons, just as there's a lot to love about direct mail.
Direct mail is easy to digest. Simple, well-designed, eye-catching plastic coupons will get the message across much quicker (and easier) than any marketing email or on-page advertisement. Our brains like tactile, engaging items, and that's why direct mail is still king.
Now that you know more about the perks of direct mail, and coupons specifically, let's take a look at some tips for creating the winning campaigns that your business deserves.
Tips for Creating Winning Campaigns and Coupons
Anyone can send out a coupon. However, not every coupon will even get looked at once, let alone kept and inspected. That is, of course, unless you take the time to do it correctly. Part of the success comes in the campaign itself, while the other part is focused on the coupon design—together, they ensure that your campaigns will always hit the mark. Here are some tips to help you create more effective plastic coupons for your business:
Make the Offer Limited: There is something to be said for limited offers. The fear of loss is real with consumers. You can't send a coupon that's good forever. Make it expire so that they are encouraged to take advantage of the limited-time savings. Even if you send the same mailer every three months with new expiration dates, you're still only giving people a limited time to use them and that often causes them to at least consider buying, if they don't jump on it.
Create a Rewards Program: In addition to general plastic coupons, you can also create mailers with rewards coupons and special discounts for your "members" when you start a rewards club. Allow anyone to join and offer them the option to get their discounts through the mail or email, and then use the direct mail clients to test out your different rewards coupons and specials. This creates even more exclusivity for people than just getting the same coupon as everyone else.
Customize the Coupons: Use buyer behavior and previous purchases to track your customers and their purchases. Then, use that information to customize the coupons. You could even send a birthday coupon and make sure that their name is on it. Perhaps you own a shop and someone just purchased new brakes—you could send them a coupon for a discount on the warranty program they declined at the time of service and see if they're interested, while paying a little less money. The fact that you took the time to reach back out could work in your favor, too.
Add Images or Artwork: A coupon is great, but an eye-catching coupon is better. Use artwork, colors, and images to create a unique piece of art and not just a coupon with some writing on it. Writing is boring and much less likely to catch people's eyes. Take advantage of being creative and try a few options if you want to see what works best, but make sure to make it interesting in some way. Otherwise, people's brains will file it away without so much as a second glance.
Use Easy-to-Read Text: Speaking of text, your coupons will need to contain words. However, you shouldn't have a paragraph of fine print that takes forever to read—keep it simple. You can even refer people to online terms and conditions to save space on the coupon or keep the text to a minimum. Don't use weird or hard-to-read fonts. That will just get in the way and cause confusion.
Of course, our biggest suggestion here to help with all of this (and more) is to partner with a reputable, experienced direct mail solution like Triadex Services. We have more than 2 decades of experience and are ready to help you create the winning coupons that you have in mind, no matter what those might be.
Creating coupons gets easier as you do it a few times, and with a little quick testing, you can usually nail down which campaigns are most effective so that you aren't wasting money on coupons that aren't getting used.
Contact us now to get started on your plastic coupon campaigns!
Benefits of Sending Coupons in the Mail
Aside from the statistics above that showcase how well direct mail works, other benefits can be found from sending printed plastic coupons and other discount mailers to your customers. You can even send them to new audiences to drum up additional business (more on that below).
The point is, regardless of what you use coupons for or how you intend to use them, they have several benefits to consider. In addition to helping your audience save money, plastic coupon campaigns also offer perks like:
Cost-effectiveness. Printed mailers, even when they're plastic, are a cost-effective option for marketing. You can print thousands of plastic coupons for a fraction of what you might spend on a high-end digital marketing campaign, and you'll generally get much better (and faster) results. There's a reason that companies still use direct mail, and part of that reason is that it doesn't hurt the budget.
Make people feel special. When you reach out to people with something like a high-quality plastic mailer, you are automatically making them feel more valued because you're not just sending another paper ad. You can even customize the coupon to add to the feeling of exclusivity and ensure that people choose your business for whatever they need.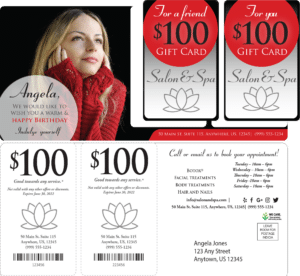 Get more attention and engagement. Plastic coupons work because they get people's attention. Especially in this day and age when there is less mail being received, a plastic coupon will stand out and make much more of an impression than anything else you could send. Even if people know it's "junk mail," it still catches their eye for at least a second, which is really all that you need.
Increase new product sales. Promoting new products is a challenge in and of itself. With coupons, however, you can give people more incentive to try whatever is new. Whenever you have a new product or service launching, you should preemptively send discounts, notifications, and coupon offers so that people are ready and willing to try it when it's available.
Attract new audiences. Again, these get people's attention. Therefore, having mailers aimed at a new target audience could help you in several You'll be able to create unique coupons and discounts, especially for the target audiences, and get their attention by customizing the savings. It's one of the easiest ways to generate new business when you're trying to reach a new demographic or group of potential buyers.
Convert buyers who abandoned previously. Remarketing is a great use for plastic coupon mailers. When you have people who almost converted, but changed their mind, a coupon could be just the push they need to come back. Consider using postcards and coupons to get people back to your business when they walk away. Not only does it get their attention, but it gives them that feeling of being special because you reached out to them specifically.
If you're not yet convinced, let's talk. Contact our team at Triadex Services and let us show you just how plastic coupons and direct mail marketing can change the way you grow and market your business.
There are several other benefits to be had from using printed coupon mailers to engage your audience or promote new business services or products, but these are some of the most valuable perks that people report when using direct mail.
Five Great Ways to Use Coupon Cards
Plastic coupon mailers are great for when you want to get people's attention and give them the chance to feel like they're getting an exclusive offer. A plastic mailer is much more durable and expensive-looking than a paper, postcard, or even a laminated mailer. It's a great choice for coupons because it will give the audience a durable item to physically carry that entitles them to savings.
People are more likely to use coupons if they're made of durable plastic or laminated material. They're also less likely to lose them, compared to the cut-out coupons from the Sunday paper or all the e-coupons they've printed online:
Promote a New Product/Service: As mentioned in the benefits, you can always use coupon cards to promote new products and services. This way, people will be more likely to try them because they're not full-price.
Offer Anniversary or Birthday Savings: Custom coupons for birthdays, anniversaries, and other special occasions or holidays are a great way to put plastic coupons to work for your brand.
Offer Seasonal Specials: Perhaps you've got spring promotions for your local business, or you have a sale setup, especially for Labor Day. Using printed coupons can get people's attention and give them the heads-up they need.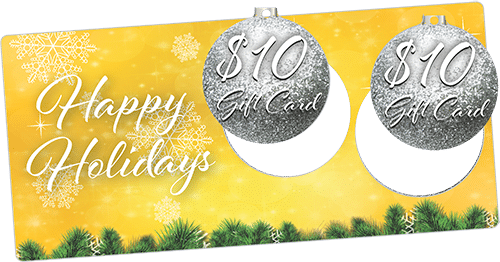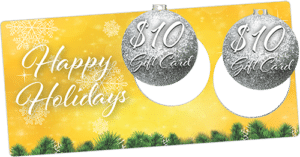 Bring Back Old Customers: We mentioned remarketing earlier—it's a great use of coupons. Putting your coupon in front of your previous customers may help re-incentivize them to use your product/service again.
Market to a New Audience: If you are trying to engage a new audience, it's going to be important to give them a reason to give you a try. Part of that can be in offering a discount or coupon that they can use to do business with you.
Create the Perfect Coupons with Triadex Services' Array of Solutions
Ready to get started on your coupon campaigns? Triadex is at your service, and we'll make sure that we help you get the most out of your marketing every single time. Our selection of plastic coupon mailers offers something for just about everyone. We can help you customize the perfect campaign materials and maximize your market reach, making it easier for you to get the word out and get your business growing, no matter what business you're in.
Don't skimp on your digital marketing strategies, by any means, but also don't forget where marketing came from. Traditional efforts like direct mail coupons are still impressively effective, and for good reason.
In addition to plastic coupon mailers, we offer an array of laminated postcards and other direct mail solutions. We can help you deliver savings, information, and anything else that you want to relay to your audience, and we'll do it in a way that stands out and gets noticed. Even if you're not quite sure what you want, but you know this is the way to go, reach out to us and see how our design team can help!
From start to finish, for planning and more, Triadex Services is your solution for direct mail coupon printing.
Let Us Be Your Source for All Your Direct Mail Campaigns and Other Marketing Solutions
Triadex Services has more than 20 years of experience in helping companies just like yours create impressive sales growth and deliver results-focused marketing that's easy and cost-effective. As mentioned, we can provide an array of solutions aside from plastic coupons, and will work with you to create a dynamic solution to manage all of your direct mail needs.
Whether you've already got the designs and just need someone to help with the creation and mailing, or if you're just looking into coupons for the first time, we've got you covered. Check out our selection of products today and give us a call whenever you're ready to discuss your marketing needs.
At Triadex Services, we're committed to helping the environment, too. We plant trees for every order that we take, in addition to taking other eco-conscious steps in our printing practices. After all, while we want to get the word out as much as possible, we want to do it without causing a lot of harm to the environment. It's our world, and it's our job to keep it in good shape.
If you want to work with a responsible, ethical, and successful printing company for your direct mailing needs, Triadex Services is your first choice. What can we get started for you?