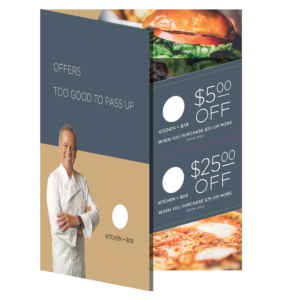 Triadex Services' Trifold brochure is a commanding new piece that stands out in the mail. Offering much more "real estate" you can easily display all of your images, products, services, and special messages. Take advantage of the extra room and show your customers the many ways your company stands out from your competitors.
Paper Postcards are a low-cost way to bring attention to your business. Not only that, sixty-six percent (66%) of recipients are more likely to remember to use a voucher if they have a physical copy to carry. For more information about our Mailing Services please refer to our Mail Services page or contact us today.
Remarkable Redemption Rates
Many of our clients are enjoying unbelievable redemption rates courtesy of our plastic postcard direct mailers. Documented redemption rates range anywhere from 7% to 45%! The profit potential for you is significant and can dramatically improve your company's ROI.
According to First Data Research, seventy-six percent (76%) of consumers are interested in purchasing or trying a new product based on receiving a gift card in the mail. Our mailers stand out in any direct mail piece and are quickly removed by the consumer. Our sizes, thicknesses, personal information and high-quality graphics make it immediately noticeable and a great attention getter. Once in their wallet or purse, your brand stands out like a hand-held billboard and is a constant reminder of your company and offer.