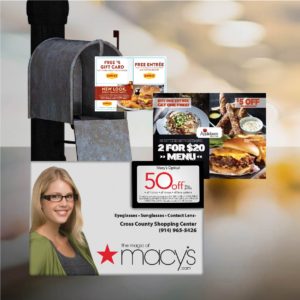 Why does Triadex Services' mailing service stand above the rest in direct mail marketing? We marry cutting-edge data mining with our proven industry experience to provide lights-out, measurable marketing campaigns…for you! By using our full array of Data Mining services you will see a dramatic improvement in your marketing efforts and a far better return on your Marketing Dollars.
The focus is clear: To improve sales velocity, you need more revenues at a better ROI from your marketing spend than you are getting today. That is where we can help.
By combining our Postcard Printing Service with our Data Mining services, you will know more accurately and far more quickly who your best customers are so your marketing dollars are not wasted. We can set-up and manage complete A/B testing campaigns so you can focus on what you do best…running your business.
Triadex Services offers a variety of Direct Mail Postcards including:
Plastic Postcards
Die-Cut Postcards
Gift Cards
Trifolds Mailers
Paper Postcards
And More…
Triadex gets granular with our recommendations. We will design and place multiple offers on a single card mailer and track each and every offer from recipients to redemptions. Upon reviewing the metrics from your specific campaign, Triadex will offer practical advice to modify your campaigns so along based on hard data from previous campaigns!
Why Triadex Services Mailing Service
1. Redemption Rates
Redemption rates have reached double digits and clients continue to rely on the high-resolution images on the larger card mailer to get their brand noticed.
Benefits
Our plastic postcards provide more real estate, allowing you to include a greater number of pictures, promo info, pricing, and even menus or a map to your location. Other benefits include:
Full-color digital printing ensures high-quality images.
Environmentally friendly option.
Every card can be uniquely addressed to the prospective customer for a personalized feel.
We handle everything from start to finish and give you the freedom to stay focused on your business. Our tracking provides buyer demographic information that will increase the ROI and profit on your future mailings.
Along with being a great way to showcase your company's products and services, our trifold can dramatically improve your company's ROI.
2. QR Codes
Give your customers instant information by adding a QR Code to your postcard marketing. QR Codes allow you to point your potential customers in the offline space to your online resources in the most efficient way possible. Never again will a customer forget about your product or service simply because there wasn't a computer available to provide them with more information at that very moment. Adding a QR Code to your postcard marketing is easy and well worth the investment.
How it Works
QR Codes (Quick Response Codes) are two-dimensional matrix barcodes that are typically displayed on a white background in a square box. When a QR code is scanned with a mobile phone, a URL is automatically opened using its browser.
Including QR Codes on your postcard marketing can allow your customers to do any of the following:
Find coupons
Visit websites
Dial telephone numbers
Find contact information
See text and images
Send emails and messages
Features & Benefits
Increase sales and brand recognition by bridging the gap between your online and offline marketing media.
Enhance your SEO and social media optimization by increasing traffic to your website.
Create a community of customers by including a link to your social network pages.
Include an automatic call to action by linking your QR code to a contact us page or promotion code.
Measure the success of your postcard marketing efforts based on clicks and leads.
QR Codes are proving to be successful across many industries, especially when added to a postcard marketing campaign.
3. Scratch Off
Looking for an innovative way to help your postcard marketing stand out even more? A Scratch Off might be a perfect fit. Triadex Card Mailers can add a scratch off to any type of marketing piece. By combining our innovative postcard marketing solution with a unique scratch-off offer, you can stand out from your competitors and increase your ROI.
Our postcard marketing scratch offs are completely customizable. Whether you want to offer a percentage discount, a dollar amount discount, a buy one get one free offer, or a special code that will drive traffic to your website, we can do it all. Even better, we can print different offers on each card. For example, we can print 70% of the cards with a 10% discount, 20% with 20% off, and 10% with 30% off. You decide what percentage of the postcard marketing campaign receives which offer for even more targeted messaging.
Features & Benefits
A unique approach that will help your direct mail piece stand out.
Customizable allowing you to choose the marketing vehicle, placement, and offer.
Ability to variable print the offers at random based on the quantity you want per offer.
Include an automatic call to action by adding a special code that customers must enter on your website.
Enhance your SEO and social media optimization by increasing traffic to your website.
Increase traffic to your store by requiring a manager present when the card is scratched.
Looking to increase foot traffic to your business with postcard marketing? Require a manager present when the card is scratched at your place of business. There are so many different applications and options, we couldn't possibly list them all here. Fortunately, we have extensive industry knowledge that allows us to help you choose the right postcard marketing offer for your business in a fraction of the time.
4. Track N Trace
Want to get the most out of your postcard marketing campaign? Adding Track N Trace will ensure you have the staff and resources in place to offer the best service possible allowing you to turn those first-time customers into regular customers! With Track N Trace, you can monitor your postcards through every step of the delivery process. Knowing when your postcards will reach your customers will allow you and your staff to prepare for the increase in foot traffic. Providing a top-notch customer experience the first time around will ensure your new customers will return again. With our innovative postcard marketing, your customers will see the value in paying full price for your product or service at a later date.
How it Works
Each individual postcard in your postcard marketing campaign is given a unique identification number that is stored in the barcode on the address label. As your mailers move from one postal facility to the next, those IDs are scanned and saved. You will be given a Track N Trace login that will allow you to export data for all or just specific card mailers. You can also have that data sent to an email address where it can then be exported into a database for further analysis. Track N Trace gives you all the information you need to track your postcard marketing campaign.
Features & Benefits
Full visibility of your mail in the USPS® Mailstream allows you to prepare for an increase in foot traffic.
Delivery predictability allows you to have the staff and resources in place to turn those first-time customers into regular customers.
Increase your ROI by training your staff to upsell extra products or services.
Performance reports allow you to plan future campaigns for optimal results.
Data exports allow you to easily share and download data to a database for further analysis.
Postal accountability allows you to keep tabs on postal performance.
Track N Trace gives you all the information you need to track your postcard marketing campaign.
5. Pricing
Our Direct Mail Postcards typically outperform traditional direct mail by four to ten times. Pricing is dependent on several variables such as: volume, mailer size, thickness, artwork design, number of versions, mailing list demographics, postage, number of destinations, data tracking requirements, etc. Please contact us for a custom quote.
6. Postcard Marketing, Design, and Printing
Triadex's Plastic Card Printing will significantly increase your sales and brand awareness. We successfully manage thousands of marketing programs and millions of postcards across multiple industries each and every year. Nothing works better than a postcard campaign created by experts who love helping our clients grow!
Features & Benefits
Save Money with Rock-Bottom Postage Discounts.
Save Time with our In-House Postcard Design Team.
Grow Your Business by Targeting Every Local Mailbox.
Deliver Focused Offers That Target Audience by Age, Income, or Household Size.
Lower Your Cost Per Piece While Generating a Higher ROI.
Fast & Easy Turnkey Solution.
EDDM Qualifying Designs and Sizes Available
In some cases, our postcard marketing redemption rates have reached well over 40%!
7. Data-Mining
We provide on-demand Data Mining Services throughout all phases of your marketing efforts: from initial list selection and data collection, to graphics and charts outlining the correlations, and to finally, targeted recommendations for achieving your quarterly and annual growth goals.
While we service many national brands, Triadex also provides Data Mining services to businesses of all sizes, including single location merchants.
According to a recent Small Business Marketing Survey released by Pitney Bowes, an astounding 80% of small business marketers did NOT measure direct mail and 73 percent did not measure email! Not only do we track the tens of millions of direct mail pieces we mail each year, but through our proprietary data mining process we have hard data that enables us to make informed decisions about every single step of your direct mail campaign. Let us share just a few of our best practices with you.
Barcode Tracking
By adding a unique barcode to each individual direct mail piece, not only are we able to measure your direct mail efforts, we can provide you with further data mining and measurement for use in your future direct mail campaigns.
Look-Alike Reports
Look-Alike data mining reports analyze your customer list and overlays the data with demographic, income, life event and other elements to determine the key characteristics of your customers. We then provide you with a list of potential new customers that share characteristics with (or "look like") your most successful customer lists.
Triadex Tracking
With Triadex Tracking data mining, you can easily save money and increase your sales. By simply adding a unique barcode to each individual card mailer, not only are we able to measure your direct mail efforts in real time, we can also provide you with key data mining and metrics for use in your future direct mail campaigns.
MailBest
MailBest is a data mining regression analysis where we analyze a sample of your customer list using over 1,100 demographic elements. Hundreds of thousands of combinations of these elements are applied to your customers to find out which combinations are the most common among your list. We then create a personalized data mining report that identifies YOUR top prospects within the desired area.
Campaign Performance Summary
Triadex's data mining can provide many charts and graphs summarizing the performance and redemption rates from your campaign. We'll show you the percentage of customers that redeemed within each specific Age and Income Range.
Customer Data Mining Tracking Reports
After your mailing, Triadex can send you a list of all available customer names, customer addresses, and available customer demographics of the residents who redeemed your cards. The Triadex Data Mining Tracking Reports can show you the exact age and income level of your guests.